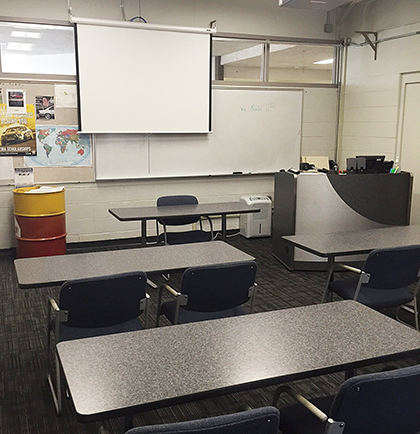 A leading manufacturer of tires, and rubber-related products is assisting Ferris State University's Automotive Management program, with the goal of improved learning for online students.
Bridgestone Americas continued its support of a proposed technical studio project, as the Nashville, Tenn.-based corporation made a $5,000 donation to Ferris' College of Engineering Technology. Automotive Management Program Coordinator Gary Maike said that financial support for the project has come in for some time, with the intention of creating a hub for online instruction.
"There are a number of our students who take their courses online, pursuing a Bachelor of Science after receiving their associate degrees at other institutions," Maike said. "Developing this studio will allow them to present technical data and spreadsheets, communicate via Skype and work together on class projects in this fashion."
Assistant professor Michele Harvey said that Automotive Management faculty and students are looking forward to greater ease of communication, and instructors will be able to accurately present their materials.
"The cameras will be able to track a professor, as they move about the class," Harvey said. "The technology should greatly benefit our ability to present industry experts as guest lecturers, wherever they might be. Our multinational student base will get a better picture of how things operate in the industry."


PHOTO CAPTION: Room 102 in the Automotive Building will be equipped with technology to allow students in remote locations to make presentations, and accommodate guest lecturers to offer their expertise without traveling to the Ferris campus. Bridgestone Americas is contributing to the project.