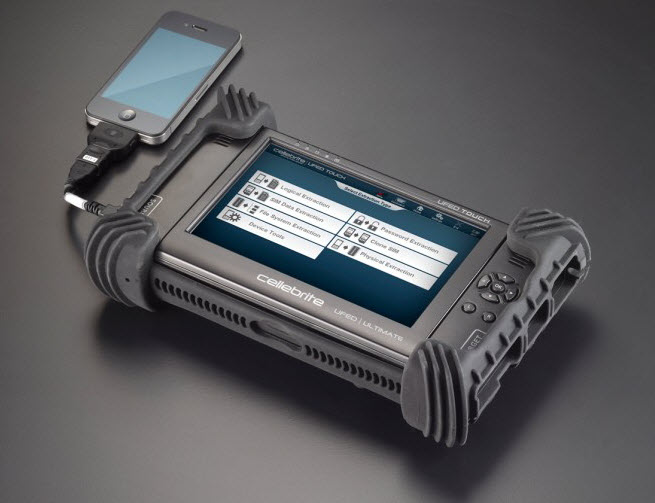 A leading manufacturer of mobile device forensics equipment has entered into a significant partnership with Ferris State University's Information Security and Intelligence program.
Cellebrite Forensics, a company based in Israel, has provided an Ultimate UFED, or universal forensic extraction device, to extract information from personal computers, and other equipment including cabling kits, according to ISI adjunct instructor Jason Otting.
"The amount of material, in terms of its dollar value on the market, could come to $60,000 to $70,000," Otting said. "This is a great situation for our program, as bar none, Cellebrite is the industry leader for mobile forensics equipment."
Otting said that the equipment allows students to practice and complete data extraction from GPS units, Smartphones, SIM cards, SD cards and other handheld devices. The program's Advanced Digital Forensics class is part of the technical track for the ISI program's Homeland Security: Digital Security and Forensics minor.
"Digital forensics has moved beyond being the practice of those in governmental intelligence and law enforcement, to the corporate ranks," Otting said. "Our ISI students can do one of several concentrations, such as data tracing and security, loss investigation or loss protection. Anything that has occurred on that mobile device can be pulled and reviewed."
Otting noted, in previous years, students in the Advanced Digital Forensics class would have used free online tools to practice data extraction, or addressed the concepts in theory as part of their classroom instruction.
"Now, our students can do hands-on learning, and by completing these mobile extractions, they can earn two different certifications," Otting said. "That can give them a leg up on students in similar programs when they are marketing themselves for internships."
Otting said that he made connections with representatives of Cellebrite as part of his professional experience with the Grand Traverse County Sheriff's Department. There were discussions in October 2015 with those contacts at the International Association of Computer Investigative Specialists' 55th annual conference, which was held in Clearwater Beach, Fla., which lead to the partnership and the transfer of the equipment.
"Ferris is one of only two schools in this initial partnership with Cellebrite," Otting said. "It's a great thing, and it's only going to grow from here."
The university's ISI program is the first in the U.S. to receive Department of Defense Cyber Crime Center and Air Force Office of Special Investigations Center designation as a National Center of Digital Forensics Academic Excellence. Similarly, the National Security Agency and the Department of Homeland Security have designated Ferris as a National Center of Academic Excellence in Cyber Defense Education. The designation will be in effect through the 2019-20 academic year.
PHOTO CAPTION: The Information Security and Intelligence program at Ferris State University recently received a Cellebrite Ultimate UFED, or university forensic extraction device for students to use in data extraction studies. The package of equipment provided through the partnership with the Israeli corporation is valued at more than $60,000.