Ferris State University faculty, staff and students come from all over the world with one thing in common- Ferris as ultimately their No. 1 choice. In the Ferris First series, we chat with members of the University community to learn more from them about why Ferris was their No. 1 choice.
They all have a story. Here, we tell part of that story. Meet Isaac Hughes: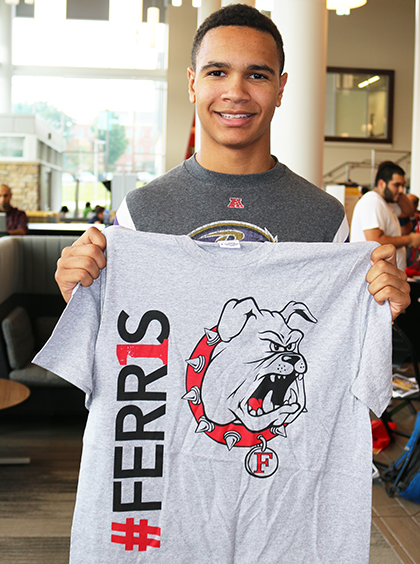 He is: Currently, An undecided student from Big Rapids, Mich. This is his first year at Ferris.
What do you like most about Ferris? Isaac likes that there are plenty of intramural sports to play and he appreciates, generally, how fun it is around campus in Big Rapids.
What do you enjoy about your initial exposure to college life? Isaac noted that he is learning new ways to be successful.
What student organizations are you involved in and why? Isaac participates in tons of intramural sports because he enjoys sports and would like to stay active.
How is Ferris preparing you for your future? Ferris is teaching him ways to be successful as a person and as a future professional. Isaac is confident that the lessons he learns, now, are going to set him up for success during the rest of his life.
Why should Ferris be a top choice for others? Ferris should be a top choice for others because everyone on campus is extremely friendly, Isaac said.
What is the best part about being at Ferris? The best part about being at Ferris is meeting new people.
Why was Ferris your number one choice? Ferris was Isaac's No. 1 choice because it has such a nice campus.