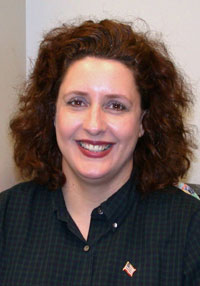 Ferris State University History Professor Jana Pisani will host a Passion for the Past discussion on Monday, Sept. 28 from 6:30 to 8 p.m., in Room 202A of the University Center.
Pisani's talk will focus on the Reformation in England. Specifically, Pisani will discuss the impact of the Reformation on the religious and social behaviors of the people of the diocese of Ely (Cambridgeshire). The topic was selected due to Pisani's passion for the history of religion and how religion impacts the lives of people. Pisani will also speak about how she came to choose this part of history, her research and more.
"I am currently writing a book, tentatively titled "God's trewe religion: The English Reformation in the Diocese of Ely," Pisani said of a book that will be based on her dissertation. "I chose this subject to talk about not only because I am writing a book about this topic, but also because I am truly passionate about the history of religion and how religion impacts peoples' lives in so many ways."
Pisani hopes that this series will show students the greater value of history – history that goes beyond memorization.
"We are hoping that this series will show our students that the fascinating discipline of history is not about just rote memorization of names and dates; instead, it is about trying to uncover how the people of the past lived and died, what they thought, how they treated each other and the environment around them," she said. "Studying history is really the action of solving a puzzle by looking at the clues left behind by the people of the past."
The History faculty are hopeful that, through Passion for the Past, non-historians can gain an understanding of diverse approaches and perspectives within the discipline of history. The setting will be informal and suitable for engaging discussion with pizza and pop served.
Passion for the Past features members of the History faculty hosting discussions with students on topics for which they are passionate.

Also, visit the History department website.
PHOTO CAPTION: Jana Pisani