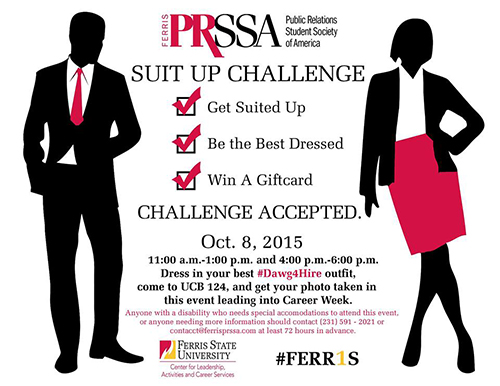 The Suit-Up Challenge returns to Ferris State University on Thursday, Oct. 8. The event will be hosted in University Center, Room 124, from 11 a.m. to 1 p.m. and 4 to 6 p.m.
Participating students will visit the University Center to have a photo taken of them in their best professional outfit for use in social media. Photos will be posted to the Ferris PRSSA Facebook and Instagram accounts with use of the hashtag #Dawg4Hire. Votes will be tallied based on likes for the photos.
"The purpose of the Suit-Up Challenge is to educate students on the importance of maintaining a qualified, confident and approachable image when networking with professionals," said Emma Thibault, president of the Ferris chapter of the Public Relations Student Society of America.
The Suit-Up Challenge was created to help prepare students for networking during Career Week by dressing up in business professional attire and taking part in the social media contest. Up to $100, per winner, will be awarded for prize packages at JC Penney and Mr. Karl's.
Ferris PRSSA, the Center for Leadership, Activities and Career Services, and the #FERR1Scampaign are co-sponsors of this year's challenge. All students are highly encouraged to use the First Lady's Attic as well as the CLACS office as resources for this event.
"As the Public Relations Student Society of America, we strive for personal and professional growth. We believe that our mission is perfectly aligned with the purpose of the Suit-Up Challenge," Thibault said.
This event is free to all students interested in participating and is encouraged to anyone that is preparing for Career Week or any other professional events.
For more information about this event, contact Thibault at [email protected] or visit the University Events Calendar.
The social media platforms, where the photos will be posted are the Ferris PRSSA Facebook page and Instagram account.