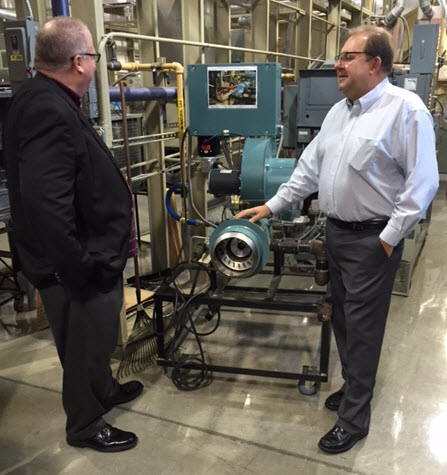 VIDEO: Hear and see Matt Roush talk about his Fall Tech Tour Visit to Ferris.
Members of the Engineering Society of Detroit have received a supportive and informative review of Ferris State University's Welding, Construction Management, and Heating, Ventilation, Air Conditioning and Refrigeration programs.
The society's director of communications and public relations, Matt Roush, visited the Big Rapids campus on Tuesday, Oct. 20 for a Fall Tech Tour stop. Roush met with program coordinators for these College of Engineering Technology programs. The ESD's website has featured reports in previous tours on Ferris' technology-based programs.
Ferris Welding Professor Jeff Hardesty welcomed Roush to the Swan Technical Arts Building for a lab tour, and a conversation about the program. Associate Professor David Murray explained that the program's involvement in the manufacture of a gazebo for Mitchell Creek Park in Big Rapids' downtown. Associate Professor Jeffrey Carney detailed the university's hopes for a state capital outlay to allow expansion of the Swan Annex, which create two more labs for Welding, as well as a Center for Advanced Manufacturing.
"We would be able to offer more sections of our labs, and have a more optimized floor plan if the state gives its approval for the expansion," Hardesty said.
Program Coordinator Doug Zentz led Roush through the Granger Center for Construction and HVACR labs, where associate's and bachelor's degree students learn basic industry concepts. Zentz explained that graduates of the AAS program find a very favorable job market, and the top Bachelor of Science graduates in HVACR Engineering Technology each have 10 to 12 job offers to consider.
"We could double the size of our program," Zentz said. "The hardest part would be finding enough competent, professional professors."
Construction Management Program Coordinator Suzanne Miller stressed the importance of Building Information Modeling software used by their Bachelor of Science students. Miller told Roush the buildings they design are "built on a computer before the actual construction process" begins, which reduces or eliminates construction issues, and project cost overruns. Miller added that their graduates have to "understand soils, need to understand structure, to know a little about every trade that's out there."
John Schmidt, director of the School of Built Environment also welcomed Roush to the Granger Center.
Roush wrote in the Tech Tour blog after his visit that Ferris presented "a vibe of overwhelming practicality, a serious sense of purpose. Very few people are there to find themselves. They are there to find a better life for themselves and their families."
Roush's Fall Tech Tour will visit eight state-funded universities, and will conclude Friday, Oct. 23. The series is sponsored by Michigan Technological University. During his visit to Big Rapids, Roush complimented Ferris and the tour's sponsor, as he said they are "practically oriented," and "down to earth, down to work."

PHOTO CAPTION: Ferris State University HVACR Program Coordinator Doug Zentz led Techcentury.com blogger and Engineering Society of Detroit Director of Communications and Public Relations Matt Roush through laboratory space in the Granger Center for Construction and HVACR. Roush has made regular visits to Ferris for his Fall Tech Tour reports.