Ferris State University faculty, staff and students come from all over the world with one thing in common- Ferris as ultimately their No. 1 choice. In the Ferris First series, we chat with members of the University community to learn more from them about why Ferris was their No. 1 choice.
They all have a story. Here, we tell part of that story. Meet: Kayla Garrett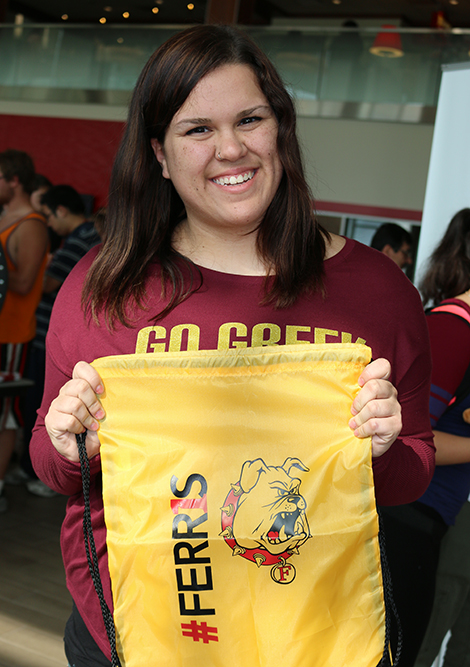 She is: A junior majoring in Hospitality from Pinconning, Mich.
What do you like most about Ferris? It is a small campus, but it is extremely diverse.
What do you enjoy about your academic major? The doors that Kayla can open are endless. She added that she can always find something new to do.
What student organizations are you involved in and why? Kayla is the President of Residence Hall Association, she is in Theatre, Delta Zeta, Eta Sigma Delta, Finance Division, and Homecoming Committee. She noted that she is very busy on campus, but that getting involved is so much fun for her.
How is Ferris preparing you for your future? Ferris is preparing Kayla by opening so many doors into what she would like to do. There is always something new to learn.
Why should Ferris be a top choice for others? Ferris should be a top choice because of the numerous opportunities for leadership and interning.
What is the best part about being at Ferris? The best part is meeting all the students and learning their stories.
Why was Ferris your number one choice? Ferris has the best hospitality program and there are always one-on-one experiences with professors to help you out.