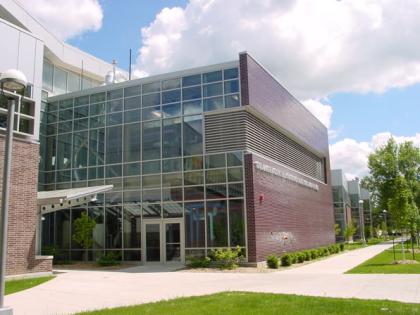 Ferris State University's Heating, Ventilation, Air Conditioning and Refrigeration program is ranked third, nationally, among the best online engineering degrees for 2015-16, according to Affordable Colleges Online.
Ferris' HVACR program has offered engineering technology classes online since 2002, according to HVACR Program Coordinator Doug Zentz. He said the curriculum is one of only two Bachelor of Science programs in the country, and helps address a staggering demand for engineering skills in the industry.
The American Society of Heating, Refrigerating and Air Conditioning Engineers has estimated that within five years, there will be a global need for 500,000 HVACR engineers. Zentz said that there will be significant attrition developing in this field, as many engineers are approaching retirement age.
This is the 14th cohort taking HVACR Engineering Technology classes online, and Zentz noted that the students come in with a variety of experiences.
"A lot of them are non-traditional students, people who have been in our industry," Zentz said. "They may have an associate and are working toward a bachelor's degree, or they have a different bachelor's and are working toward HVACR training."
The students range in age from their mid-20s to mid-50s, and Zentz said that the online courses accommodate their different work shifts and countries of residence.
"I've had cohorts where there was a student from California, and another from Saudi Arabia," Zentz said. "You have to be flexible with them, since not everyone can take part in an 8 a.m. chat session."
The Ferris HVACR online courses have also progressed, thanks in part to improving technology. Zentz said they have moved from managing courses with Web CT to sending several recorded lectures on a DVD, and on to the current use of Tegrity and Blackboard Learn to deliver instruction.
Affordable Colleges Online considers only public or private not-for-profit institutions that offer bachelor's degrees or higher, who offer at least one fully online bachelor's degree. Factors that impact their rankings include six-year graduation rates and student-faculty ratio, and Zentz said Ferris' HVACR program shines in terms of another metric, job placement.
"Every graduate in the program has at least one job offer to consider, our top students are seeing as many as a dozen companies competing for them," Zentz said.
There are 14 colleges and universities on the Best Online Engineering Degrees for 2015-16 rankings. The other Michigan-based institution on the list is Baker College, which was founded as Muskegon College in 1888 by Ferris' founder, Woodbridge Ferris.

PHOTO CAPTION: Pictured is Ferris State University's Granger Center for Construction and HVACR on the Big Rapids, Mich. campus.