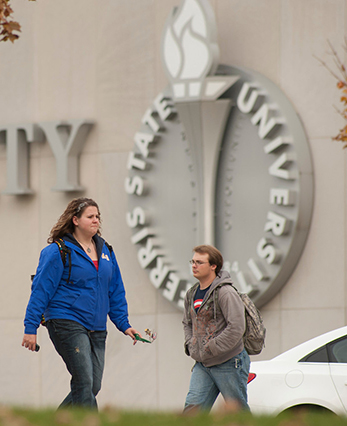 Ferris State University's Department of Public Safety is offering tips to help better ensure pedestrian.
Bruce Borkovich, director of Public Safety, has presented four points to help people who are driving and people who are walking to be as safe as possible.
Distracted walking is becoming more of a hazard on campus. Distracted walking often involves someone who is listening to an IPOD and/or texting while walking. By doing either or both, a pedestrian is shutting off or limiting auditory and/or visual indicators of danger;
If a sidewalk is present next to a street, state law requires that pedestrians use the sidewalk. If a sidewalk is not present, and a pedestrian must walk on the street, they should walk against the flow of traffic;
On and near the Ferris' campus, the greatest statistical risk to pedestrians is crossing State Street. Pedestrians should exercise caution and utilize the crosswalk in front of Williams Auditorium and the Starr Building. This crosswalk can stop traffic; and
The greatest number of pedestrian/car accidents occur when a car is making a left hand turn. Pedestrians should be cautious when crossing any street and pay particular attention to the threat that a left-turning automobiles may pose.