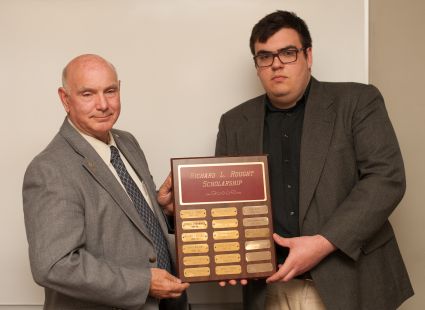 For Ferris State University alumnus Richard Rought paying for his college education was a challenge. For this reason, Rought has supported an annual scholarship since 1998 for surveying engineering students enrolled in Ferris' College of Engineering Technology. Because of Rought's desire to support students and his appreciation of Ferris, he decided to permanently fund his annual award.

The Richard L. Rought Surveying Scholarship provides a scholarship annually to a full-time sophomore, junior or senior student enrolled in the Surveying Engineering program. Applicants must have a 2.0 GPA or higher and financial need may be considered. Preference is given to residents of West Michigan.

"Back in the 1960s, an average student was very unlikely to receive any financial assistance," said Rought, a 1966 Ferris CET alumnus.

Rought's parents delivered Sunday papers to help pay for his and his three siblings' college education. Rought also worked during his college years: on the snow and maintenance crew at Ferris and spent a summer working for the Newaygo County Road Commission.

Devin Thurston, the most recent Rought scholarship recipient and a senior in the Surveying Engineering program, said receiving the scholarship "provided not only financial stability, but also a sense of mental confirmation."

"Being awarded a scholarship shows that all the hard work that I have put forth inside and outside of the classroom is being recognized," Thurston said.

After graduation, Thurston plans to obtain his professional surveyor's license in Michigan and eventually become a county surveyor.

Rought was born in Fremont, Mich. in 1946. His parents worked at the Gerber baby food factory. He grew up working on his grandfather's farm raising animals, driving tractors, hauling hay and harvesting fruits and vegetables.

After graduating from Ferris, Rought served for three years in the U.S. Army, spending time in Vietnam and Fort Benning, Ga. He continued to serve with the Michigan National Guard for 20 more years, earning numerous awards and retiring in 1998.

Rought also worked for the City of Fremont for 36 years in the engineering department and for the Fremont Fire Department for 16 years.

"My success allows me to give back to the program that set me up for the remainder of my life," Rought said. "Any amount of assistance that can be given to an 'average' student, like I was, is much greater than just the monetary amount. My only regret is that I did not start my scholarship sooner."

Rought is married and has two adult sons and four grandchildren. One of his sons graduated from the Ferris Facility Management program.

For more information about the Richard L. Rought Surveying Scholarship or to make a contribution, contact The Ferris Foundation at (231) 591-2365 or visit here.