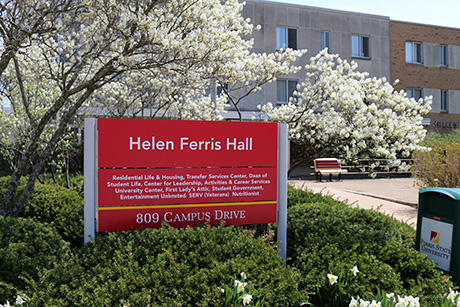 The initial process for the demolition of Ferris State University's Helen Ferris Hall has commenced.
Built in 1956 and currently the university's oldest traditional suite style residence hall, Helen Ferris Hall was vacated near the end of the Spring 2015 semester. Full demolition is expected to commence the week of June 15. Demolition, and post-demolition work, is expected to conclude by mid-August – in time for the start of the Fall 2015 semester.
During the week of June 8, Helen Ferris Hall will be used for fire and police training.
The Helen Ferris Hall demolition project is part of the university's facilities master plan and is a final component of the completion of the North Campus Quad and the University Center project. The UC opened in January 2015.
The project was approved by the Ferris Board of Trustees at its meeting in February.