Ferris State University faculty, staff and students come from all over the world with one thing in common – Ferris as ultimately their No. 1 choice. In the Ferris First series, we chat with members of the University community to learn more from them about why Ferris was their No. 1 choice.
They all have a story. Here, we tell part of that story. Meet: Amanda Jewell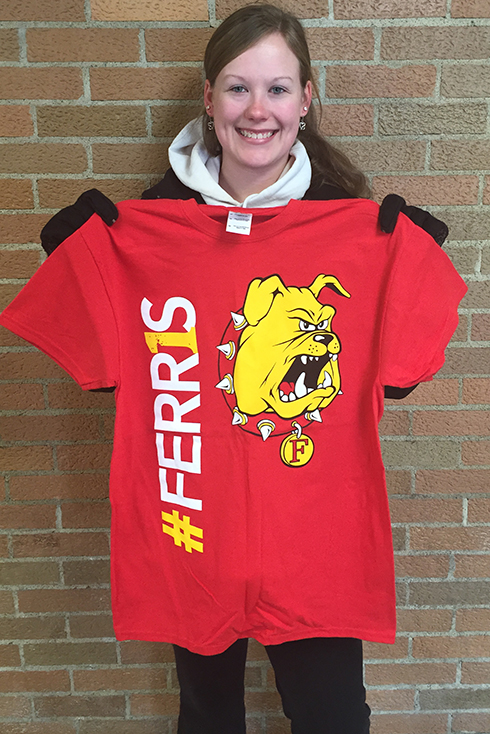 She is: A senior from Marion Springs, Mich. majoring in Health Care Systems Administration.
Why was Ferris your number one choice? Since the first time that Amanda visited Ferris, she was intrigued by the amount of career-oriented programs that the University offered.
"I always felt like Ferris was home," she said. "The people on campus care about you, and that was apparent the moment I arrived."
What do you like most about Ferris? Amanda enjoys all of the opportunities that Ferris has to provide for and the leaders that go out of their way to make sure that students' needs are met.
"Ferris administration is here to make the college experience better for their students," she said. "Ferris leaders include students' wants and needs as improvements are made on campus."
What do you enjoy about your academic major? Amanda believes that something that sets her major apart at Ferris is the requirement of internships in order to graduate.
"Requiring internships is very important," she said. "It's able to give me hands on experience and allows me to have more experience before I graduate."
What student organizations are you involved in? Why? She is involved as a member of Lambda Kappa Sigma and Student Government. Along with those organizations, she serves as The BIG Event director.
"I stay involved on campus because it allows me to give back to the community and the university," Amanda said. "Getting involved on campus is important to me because it gives me the opportunity to gain the full college experience, not just the experience of classes."
How is Ferris preparing you for your future? Amanda has been able to prepare for her future through her program, classes as well as her extracurricular organizations.
"Everything that I get involved with at Ferris has made me into the person I am today," she said. "I've been able to excel as a leader on and off campus, while continuing to make a difference."
Why should Ferris be a top choice for others? "Ferris should be a top choice because it has a small campus with exceptional opportunities for everyone," said Amanda. "Ferris faculty and staff are caring and passionate, especially when it comes to students and their education."