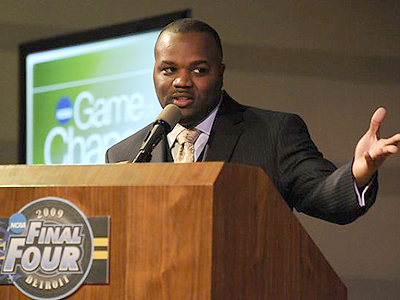 Ferris State University alumnus Ira Childress returns to campus on Monday, Jan. 26 to discuss "Issues in Leadership: Sports as a Microcosm of American Society?"
His keynote presentation, which is free and open to the public, will take place in the Interdisciplinary Resources Center, Room 120 at 6 p.m. His appearance kicks off the Spring 2015 Sports Speaker Series.
"Students who want to work in sports need to listen to Ira. He's done what we all want to do," said Nathan Wells, student game day manager for Ferris athletics. "He has paid his dues and knows the hardship of a career in the sports world and is the best person to connect with if someone is truly interested in sports."
The Sports Speakers Series brings practitioners in the sports industry to the Big Rapids campus to provide career networking opportunities for students. The Sports Careers Registered Student Organization and the Sports Leadership Institute are co-sponsoring the series.
A native of Baldwin, Childress earned a both a Bachelor of Science in Applied Speech Communication and a master's in Education from Ferris. He also played football for the Bulldogs.
Childress joined Okemos High School as an athletic director in Fall 2013. Previously, he was a TV producer and show host, radio sports commentator, events planner for Ferris alumni activities and an administrator for the National Collegiate Athletic Association. He also operates Childress Sports Consulting.
"Ira's networking connections in the sports industry are priceless," said Sandy Alspach, professor of Communication. "He has been an inspiration and a dedicated contributor to the success of the Sports Communication program."
For more information on Childress and his business, visit the Childress Sports Consulting website, here.
Last updated: 01-21-2015