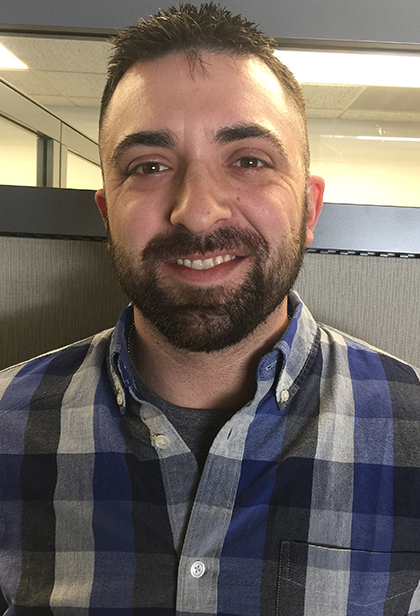 Ferris State University recently hired Jacob Schrot as its new veteran resource representative. Schrot's office is located in the new University Center. Schrot will be available to assist student veterans in the transition from military life to college life, to assist the Student Veterans of America organization on campus and help plan any Veteran specific events.
This comes on the heels of a recent Michigan College Access Network and the Michigan Veteran Affairs Agency announcement of the creation of the Michigan Veteran Education Initiative, an effort designed to support veterans as they return to civilian life and to help them successfully pursue a college education. An estimated 30,000 to 50,000 veterans will leave the military and move to Michigan during the next five years. This new program will provide one-on-one support to help the thousands of veterans who enroll in Michigan's educational institutions by providing outreach services, support and information.
"We're honored to offer this helping hand to the tens of thousands of men and women who have provided an invaluable service to our country," said Brandy Johnson, MCAN executive director. "This program gives veterans access to resources where it matters most, directly on campuses across the state, to truly create an environment for success."
Twelve veteran resource representatives have been hired to work at Ferris State University and a number of other college campuses around the state. These representatives will be housed on campus and will interact with student-veterans, assisting them as they complete benefits applications and navigate the higher education and financial aid processes. The list of participating campuses includes Baker College-Flint, Ferris State University, Grand Valley State University, Grand Rapids Community College, Jackson College, MIAT College of Technology, Michigan State University, Mid-Michigan Community College, Kirtland Community College, North Central Michigan College, Northern Michigan University, Oakland Community College, Spring Arbor University and Western Michigan University.
MVAA hopes the extra guidance will encourage veterans to pursue a higher education and provide them with valuable networking opportunities when they return to civilian life.
"One of the most challenging obstacles our veterans face is transitioning back home to civilian life," said Jaimie Hutchison, MVEI program manager. "This initiative will help the men and women who have done so much for our country. Veteran resource representatives are an important step toward greater success for our veterans who attend institutions of higher learning and demonstrate that Michigan's educational institutions are leaders nationally."
The Michigan Veteran Education Initiative is making strides to help MCAN achieve Goal 2025, an effort to increase the percentage of Michigan residents with high-quality degrees or credentials to 60 percent by the year 2025. MCAN works toward achieving this goal by advocating for policy reforms that lower the barriers to college for students, sponsoring a number of statewide initiatives focused on increasing college access, delivering professional development to train college access professionals to be highly qualified and effective college advisers, and strengthening like-minded and mission-aligned statewide college access and success initiatives.


Ferris State University Veteran Resource Center
The Veteran Resource Center is run by Veterans for Veterans. The Center is a centralized resource department that is easily accessible and widely available to all veterans, including active duty, reserve guard, separated, retired and their dependents. The VRC is located in the new University Center in the Center for Leadership Activities and Career Services office. Veterans are encouraged to take advantage of the VRC for studying, computers and printer access, or to just grab a coffee or beverage and relax between classes.
For more information about the Veteran Resource Center, click here.


About Michigan College Access Network
As the leader in the state's college access movement, MCAN's mission is to increase Michigan's college readiness, participation and completion rates, particularly among low-income students, first-generation college-going students, and students of color. Michigan has recently experienced a modest increase in our college attainment rate -- from 36.8 percent of 25-to-64-year-olds possessing at least an associate's degree, to 37.4 percent. However, Michigan's rate still lags behind the national average of 39.4 percent. It is MCAN's goal to increase Michigan's postsecondary educational attainment rate to 60 percent by the year 2025. For more information, visit here.


About the Michigan Veterans Affairs Agency
MVAA serves as the central coordinating point for Michigan veterans, connecting those who have served in the U.S. Armed Forces, and their families, to services and benefits throughout the state. Learn more here or call 800-MICH-VET (800-642-4838).


PICTURED ABOVE
Jacob Schrot, veteran resource representative