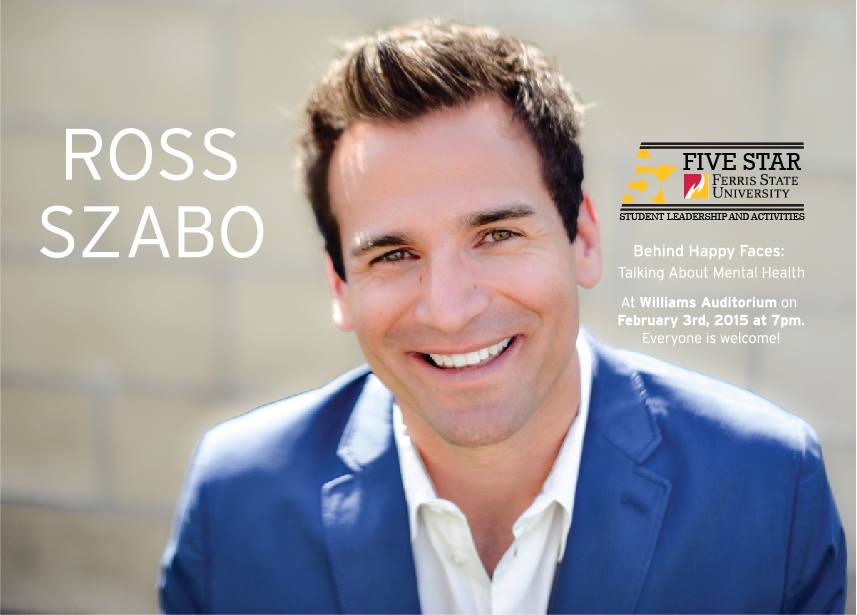 Talking about feelings and mental health can be difficult. Ross Szabo, author of "Behind Happy Faces," will speak about his book at Ferris State University on Tuesday, Feb. 3 at 7 p.m. in Williams Auditorium. This presentation is designed to put the audience at ease and empower people to confront a difficult topic.
Szabo uses tasteful humor as he talks about his battle with mental health, and how he got through college after being diagnosed with bipolar disorder.
"Ross's story resonates with the millions of college students who are putting on a happy face to hide their true emotions," according to Campus Speak, a national provider of educational speakers and workshops.
The program focuses specifically on how students can achieve positive mental health and, in turn, has empowered over 1 million young people to take the first steps to achieving mental health.
"I saw Szabo at a Zeta Tau Alpha convention and realized that many college students suppress how they are feeling on a daily basis," said Brittney Seapan, a junior from Dyer, Ind. majoring in respiratory therapy.
This five-star university event is sponsored by the student organization Zeta Tau Alpha. The event is free and open to the public.