Ferris State University faculty, staff and students come from all over the world with one thing in common – Ferris as ultimately their No. 1 choice. In the Ferris First series, we chat with members of the University community to learn more from them about why Ferris was their No. 1 choice.
They all have a story. Here, we tell part of that story. Meet: Liz Michalski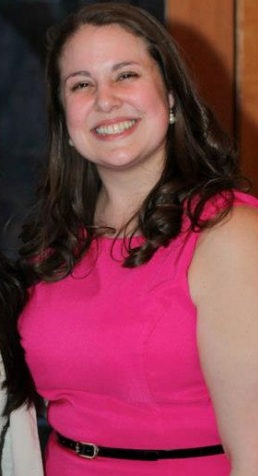 She is: A Ferris State University Public Relations alumna from Cass City, Mich.
How did you find out about Ferris? In high school, Liz attended a college day where she was first introduced to Ferris and the different career paths it offers.
What made Ferris your top choice in the end? "When I first toured the campus, it just felt right. Coming from a small town, I wanted a campus that wasn't too big, but wasn't too small either. Ferris has the all amenities and benefits of a large university with the close-knit community feel of a smaller university."
Liz also mentioned the fact that Ferris has the only Public Relations program in the nation to offer PR as a business degree and the only program in Michigan to be certified by Public Relations Society of America.
How do you stay affiliated with Ferris? Liz finds it fun to come to campus and see the changes that have taken place. Now that her sister attends Ferris, she visits more often. And of course she's always rooting for the Ferris State Bulldogs hockey team.
"In my four years at Ferris, it became my home. You can't just graduate and leave your home away from home without any plans of returning."
What do you love about Ferris? By graduation, Liz had met some of the most incredible people that she had ever met. Ferris prepared her for not only her professional life, but helped in her personal life as well. Through internships and student organizations, she was able to explore her passions.
"You really do become part of a community at Ferris. I'm proud to say that I am a Ferris alumna."
Why should Ferris be a top choice for people? "If you want a school where you can disappear and become just another student, Ferris is not for you. At Ferris, you really get hands-on experience in and out of the classroom. You can find a student organization that matches any interest you might have. At Ferris, you will receive a top-notch education, preparing you for whatever next step you decide to take."
What is your favorite Ferris memory? Liz's favorite memory at Ferris could not be narrowed down to one moment, due to how much fun she had throughout the years in her student organization, the Public Relations Student Society of America.
"We ended up becoming a family. We planned events together, did community service, studied together and frequented Starbucks quite a bit. It's nice when you actually like your classmates, but it is even better when you can call them your friends. I never would have met my Ferris PRSSA friends if I didn't attend Ferris."