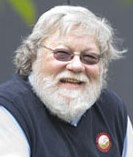 The Festival of the Arts is putting together a showcase to excite aspiring architects. The showcase is an opportunity to work with licensed architects from the Ferris State University's Sustainable Architecture program and its students.
The LEGO Architecture event begins Tuesday, Feb. 17 at 6 p.m. hosted in the Granger Center for Construction and HVACR. Students and community members ages 8 and up are encouraged to attend. Bruce C. Dilg, who was a professor of Architectural Technology and currently chair and founder of the Festival of the Arts. Dilg will be orchestrating and managing this event.
"As an architect and a professor, I am always trying to bring to the conscious level of people the fact that they experience architecture every day," Dilg said. "As I thought about ways to bring architecture to the 2015 Festival or the Arts, the idea of using LEGO's, beloved by all, occurred to me."
LEGO Company has created famous building models utilizing their products. Festival of the Arts has purchased a number of kits including the Empire State Building, The Willis (Sears) Tower and many others.
Ferris students will give a brief presentation of each of these buildings and then participants will break into teams to construct the models following adopted original drawings. Participants will also have the opportunity to design and construct their own buildings. At the conclusion of the event, models will be displayed throughout the Big Rapids area for all people to enjoy.
Festival of the Arts is an annual event that brings entertainment, art, educational and cultural events to Big Rapids daily through the month of February. For more information about Festival of the Arts, please visit here.


PICTURED ABOVE
Bruce Dilg, chair and founder of the Festival of the Arts