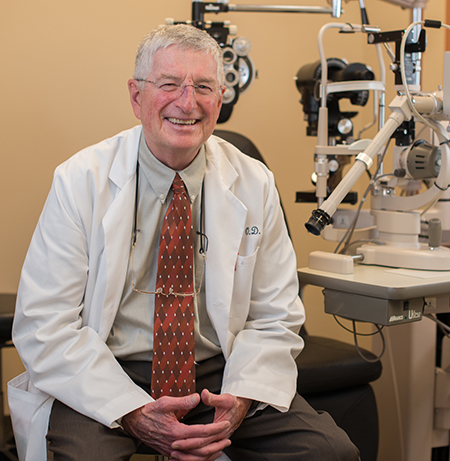 Whether he's teaching students and seeing patients in the Michigan College of Optometry's University Eye Center or cheering on the Bulldogs at hockey and basketball games, Dr. Robert Carter is passionate about Ferris State University. A founding faculty member of Ferris' optometry college, Carter's love of his students, passion for his profession and his belief that the MCO provides the best clinically based education and patient care motivated him to establish an endowed scholarship for future optometrists.
The Dr. Robert L. Carter Endowed Scholarship aims to help MCO's recruitment efforts by providing scholarships to students working toward a Doctor of Optometry degree. The scholarship will be awarded annually to full-time, first-year MCO students based on academic success, citizenship and financial need.
"I don't want only the richest people to get a chance. I think if a young person is willing to give it a try and is smart enough, then let's make it possible," Carter said. "Ferris has been very good to me, and I felt it was the right thing to give something back."
Carter's tenure with Ferris began in 1975, when he was recruited as one of the three faculty members to start the optometry college. He earned his Doctor of Optometry degree from Indiana University in 1970 then spent three years in the U.S. Air Force and two years on the clinical faculty at his alma mater before joining Ferris.
"Bob was a leader in developing the college, educating optometry students, serving the university and progressing the development of the optometric profession in Michigan," said Dr. Michael Keating, a professor emeritus of MCO. "He was undaunted in the face of difficulties and served in a number of difficult leadership positions that others shied away from."
The college's formal opening was not without difficulties. Michigan Gov. William Milliken authorized its creation in 1974, however, he vetoed the funding for it the following year. Ensuring the college's survival required a massive lobbying effort by then-Ferris President Robert Ewigleben, the Ferris Board of Control, the Michigan Optometric Association and the MCO faculty and staff.
"President Ewigleben was a visionary," Carter said. "His effort led, not only to the creation of MCO, but also the first-of-its-kind Professional Golf Management program, Katke Golf Course, the NCAA Division I hockey program, the ice arena and the Audiovisual Center (now known as the Interdisciplinary Resource Center)."
The newly-establishment hockey program quickly caught Carter's attention, and he became an ardent Bulldog sports fan. He purchased season tickets for hockey as soon as they became available and remains a season ticketholder to this day. He also regularly attends Bulldog basketball games.
"I've been watching hockey here since they first built the rink and hired (former head coach Rick) Duffett as the coach, and I've been watching Ferris basketball since (Jim) Wink was the coach," Carter said.
Along with being a Bulldog sports fan, Carter is deeply passionate about promoting Ferris' career-oriented curriculum. "People come out of here, and they get jobs," he said. "It provides an entrance into a career. It's not just a liberal arts college."
During his teaching career, Carter left Ferris in 1979 for a one-year leave of absence spent at the Department of Ophthalmology at Henry Ford Hospital in Detroit. He didn't care for the hustle and bustle of the big city and soon returned to Big Rapids. In 1998, he took a sabbatical to work in the optometry department at the University of Auckland in New Zealand, an experience he described as "a year-long adventure."
Carter's classroom and clinic assignments varied greatly during his 40 years teaching at Ferris, but his greatest joy has been working with students and patients in the optometry clinic, he said.
For Carter, the MCO has a unique camaraderie, which goes all the way back to its "rocky start" and reigns more than 40 years later. "The faculty and students consider themselves part of a unique world," Carter said. "In fact, MCO is casually known as 'Planet O' to its faculty and staff."
The metaphor was created by Ken Gallagher, one of the first dispensing opticians hired by the MCO.
"The first location of the optometry school was far from the rest of campus, so I used to say that I was going to 'Planet O' where all of the 'Optometroids' hang out," Gallagher said. Those kind of inside jokes fuel the professional camaraderie within MCO that Carter cherishes. He retired in December 2011, but continues to work as an adjunct clinical faculty member at MCO's University Eye Center. He serves as vice president of the university's Emeriti Association, and he also recently co-authored a book with Dr. J. James Saladin on MCO's history called, A Vision Realized.
"Dr. Carter's generous gift of an endowed scholarship is very important in not only helping the academically successful student control their debt, but it also allows MCO to successfully recruit and enroll students who may be offered large scholarships by other competing optometric educational institutions," said Dr. John Pole, chairman of MCO's Admissions Committee.
In addition to his work at Ferris, Carter served on the Board of Trustees of the Michigan Optometric Association from 1982 until 1990 and was the president in 1989. He was MOA's legislative committee chair from 1990 until 1995 and also has served on many state and national association committees. He was instrumental in the passage of legislation that allows optometrists in Michigan to prescribe medication for a host of eye diseases, including glaucoma.
"We are very grateful to Dr. Bob Carter for his generous gift to benefit future students at Ferris State University's Michigan College of Optometry," said Dr. David A. Damari, MCO dean. "Dr. Carter has spent nearly the entirety of his career giving of his skills and talent, and this gift is just another aspect of his enormous legacy at MCO. We have all benefited from his generosity."
Carter and his wife, Jane, have two adult sons, both Ferris alumni, and four grandchildren.
For more information about the Dr. Robert Carter Scholarship Endowment or to make a contribution, contact The Ferris Foundation at (231) 591-2365 or by email. For additional information on the foundation, visit here.