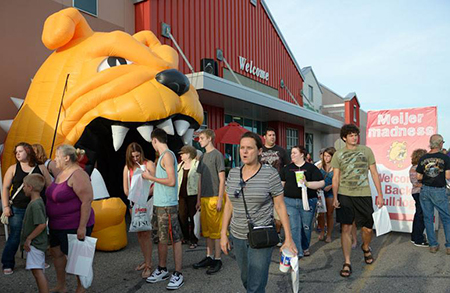 Meijer Mania is one of the signature events that annually kicks off the fall semester at Ferris State University.
Students participating in Meijer Mania will be provided transportation to the Big Rapids Meijer for the Saturday, Aug. 29 event that begins at 7 p.m. Beginning at approximately 6:45 p.m., shuttle buses are available to take students to and from Meijer. Pickup locations on campus include Lot 63, near Bond Hall, and the circle by Merrill and Travis halls. Shuttles will pick up students every 15 to 20 minutes, and a handicapped accessible bus will be available.
The event includes a live DJ, giveaways and raffles, a photo booth and more. Coupons and discounts are also signature features of Meijer Mania.

"This event provides student the opportunity to get out in the community and not be confined to campus," said Nicholas Smith, activities coordinator in the Center for Leadership, Activities and Career Services. "Students are not only part of the campus community, but also the surrounding Big Rapids community."
Smith also is acting as a co-chair for the Bulldog Beginnings Planning Committee, with Fernando Labra, coordinator of intramural and club sports.
The Big Rapids Meijer is located at 15400 Waldron Way near Perry Ave. The store's phone number is (231) 527-0200.