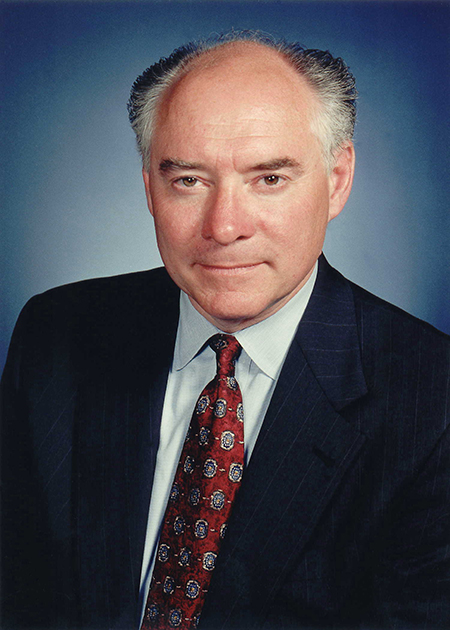 Frederick E. Shell, vice president of Corporate and Government Affairs for DTE Energy, will receive an honorary Doctorate of Public Service degree in conjunction with the Spring 2015 commencement ceremonies.
Shell will address graduates during the Saturday, May 9 ceremony at 9 a.m. in Jim Wink Arena of the Ewigleben Sports Complex in Big Rapids. He looks forward to giving advice to the graduates.
"I'll tell graduates that as time passes you will see your Ferris degree grow in value," Shell said. "I will also tell them that it may not feel like it now, but you've just been handed responsibility for the future 40 or 50 years of your community, state and nation – have a good time and do well."
Ferris' Board of Trustees approved the honorary degree as a result of Shell's dedication to his profession and his support of civic institutions. In addition, his wide experience encompassing the corporate, civic and political realms and his appreciation of the Ferris' mission are truly reflective of his commitment to nurturing community resources.
"When President Eisler called, I first felt very honored to receive recognition from an institution like Ferris that makes so many important contributions to our state and nation," Shell said. "My second reaction was to feel very humbled and certain that there must be someone far more deserving."
In his current position, Shell is responsible for corporate, federal, state and local government affairs. He also serves as president of the DTE Energy Foundation where he is responsible for overseeing the company's philanthropic contributions and community outreach programs.
Shell was previously vice president of public affairs at MCN Energy Group, which merged with DTE Energy in 2001. There he was responsible for guiding the company in civic affairs, corporate communications, government affairs, media relations and public policy. Shell also served as director of public policy at Michigan Consolidated Gas Company; president and chief operating officer of G-Tech, the company's gas technology division; and lobbyist and director of government affairs. Earlier in his career, Shell served as press secretary to a Michigan member of Congress.
In his role as president of the DTE Energy Foundation, Shell was supportive of Ferris' Jim Crow Museum of Racist Memorabilia and its mission to use objects of intolerance to teach tolerance and promote social justice. He recognized that although some of the museum's objects are disturbing, the context in which they are placed create an important resource for understanding inequality – a resource drawn upon by students, scholars and the general public.
"Together with DTE Foundation colleagues, I feel that we made a very right and relevant decision in 2011 to support the courageous and creative work of David Pilgrim, and I was gratified that the university was continuing to support and recognize the value of that work," Shell said.
Shell is very active in professional and civic organizations. He is president of the Michigan Economic Development Foundation and vice chairperson of the Metropolitan Affairs Coalition. He serves on the board of directors of the Detroit Historical Society, the Historical Society of Michigan, Metro Detroit Visitors and Convention Bureau and the Michigan Political Leadership Program.
Shell earned a Bachelor of Science degree in history and political science from Western Michigan University, and is a graduate of the University of Michigan's Public Utility Executive program.
Also receiving honorary doctorates will be Dale Hagerman and . You can find out more information on Ferris' commencement ceremonies, here.