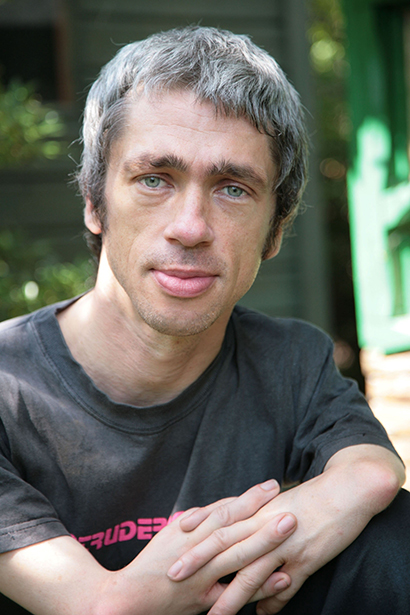 GRAND RAPIDS, Mich. – Organizers of DisArt Festival 2015 announced that Mat Fraser, star of the FX original series American Horror Story, will be in Grand Rapids, Mich. for the opening night of the DisArt Independent Film Festival on Sunday, April 19, at 6 p.m. at the Urban Institute for Contemporary Arts.
The film festival opens with director Paul Sapin's Born Freak, a documentary that features Fraser and journeys through the history of so-called "freak" performers. After the film, the audience will have a chance to watch an episode of American Horror Story, followed by a discussion between Fraser and DisArt Independent Film Festival curators David Mitchell and Sharon Snyder. Fraser will also entertain audience comments and questions.
"Mat Fraser is one of the most public faces of disability culture, a performer who has traveled the globe engaging audiences in the important conversation of disability rights," said DisArt Festival Director Christopher Smit. "It's a tremendous honor for Grand Rapids to be able to host him during DisArt, and we are absolutely thrilled about his upcoming visit."
Fraser stars in the fourth season of the Emmy and Golden Globe Award-winning FX drama series as Paul the Illustrated Seal, along with actors Evan Peters, Jessica Lange and Kathy Bates. His work has garnered critical attention from both fans and media.
Fraser is also one of the United Kingdom's best-known disabled performers. He has gathered a large body of work over the last 15 years as a multidisciplinary performing artist, a writer and a musician who has played to audiences from the Olympic stadium and the Royal Albert Hall to many dive bars and late night clubs, all the while employing his self-dubbed "cripping up the scene" attitude of working as a disability artist within mainstream arts environments.
Recently, Fraser hosted the opening ceremony for the Paralympics in London, drummed with Coldplay in the closing ceremony, and was in the National Theatre of Wales' production of "In Water I'm Weightless." In 2013, he starred in the critically acclaimed theatrical adaptation of "Beauty and the Beast," and in January 2014 he debuted his new solo art exhibition called "Cabinet of Curiosities: How Disability was kept in a box."
The DisArt Independent Film Festival is one of the largest curated collections of disability-centered films to ever be organized in the U.S., and an important component of the larger DisArt Festival. A total of 16 films will be show over the course of four days, and the event will also include interactions with activist Simi Linton, who will be screening her film Invitation to Dance.
"We're very excited about the films that we're going to be showing, as well as the discussions and interactions that will be taking place around them," Smit said. "Films have the ability to engage our senses in such a comprehensive way, and we're expecting these particular films to add a great deal to the larger conversations created by the DisArt Festival."
For a complete line-up of films that will be shown in the DisArt Independent Film Festival, visit here.