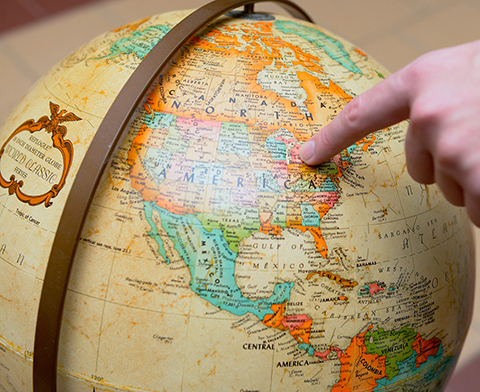 The Bulldog Sustainability Alliance at Ferris State University is hosting Earth Week 2015 to bring innovation and sustainability to campus through collaboration and creativity.

Ferris' Earth Week 2015 celebration takes place April 20-26.
The Bulldog Sustainability Alliance, in collaboration with the Honors program, AmeriCorps VISTA, The Outdoor Club, American Institute of Architectural Students at Ferris, Associated Construction Students, Student Government, Entertainment Unlimited, Chippewa Watershed Conservancy, Susan Rich Hazel and The High Five Program will be presenting various events throughout the week related to sustainability on campus.
"Earth week is important because we're all earthlings," said Michael Williams, incoming president of Bulldog Sustainability Alliance. "This is our home and it's too easy to get caught up in today's consumerism and excessive resource usage with our busy schedules and sweet technology. This is a week to reflect on how we can better manage those things and remember we are all in this together."
One highlighted event of Earth Week is keynote speaker, Dan Phillips. Phillips is the owner of Phoenix Commotion and is a nationally-recognized sustainability expert, designer and builder. He has spoken at numerous universities and in front of TEDx audiences.
Williams, a junior majoring in Biochemistry with a minor in Public Advocacy from Grand Rapids, Mich., also noted that the Bulldog Sustainability Alliance is bringing The High Five Program to Ferris Fest to help make it a greener event.
"High Five is the same greening company that handles greening solutions for events like Electric Forest, Local First and Founders fest street fairs in Grand Rapids and many other music, food and beer festivals across the nation," Williams said.
The Bulldog Sustainability Alliance is a registered student organization on campus that works to improve the campus environment and student life at Ferris through the implementation of sustainable practices. The group seeks to unite students towards sustainability goals by taking part in campus-wide recycling, alternative energy research and investments, sustainable community gardening and much more.


EARTH WEEK 2015
April 20-23: Pot & Plant Sale
11 a.m. to 5 p.m. in the University Center
Hosted by the Outdoor Club and Bulldog Sustainability Alliance
Tuesday, April 21: Tie-dying
11 a.m. to 7 p.m. at the North Quad
$5 if you bring your own shirt, or $7 with purchase of a t-shirt
Hosted by the Bulldog Sustainability Alliance
Tuesday, April 21: Speaker Dan Phillips
8 p.m. in the University Center, Room 202
Funded by Finance Division of Student Government
Thursday, April 23: Recycled Art Show
6 to 9 p.m. in the University Center History Lounge
Saturday, April 25: Ferris Fest
Noon to 6 p.m. at the North Quad
Join the High Five Program at Ferris Fest
Sunday, April 26: Deer Exclosure Build
10 a.m. to noon at Hall Lake Preserve