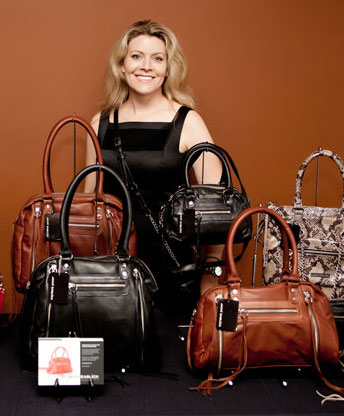 The March #ProFresh Twitter Chat will feature prominent designer Jacki Easlick. She will be sharing her experience and journey to success. The Twitter chat is scheduled for Wednesday, March 26.
The free event starts at 7 p.m. in Ferris' College of Business, Room 208. Pizza will be provided by The Gate. One lucky student will also win a $30 MOO.com gift card. Students can attend the event in person or tweet from the comfort of home.
Easlick is a former design director for Kenneth Cole Productions and has designed for respected brands including Aldo, Macy's, Nike, Vera Bradley and Victoria's Secret. She has also designed for Hilary Duff and Kim Kardashian. Easlick now masterminds her own line of luxury leather handbags and 18kt gold gemstone jewelry, and invented the Tote Hanger, a hook designed to hang handbags in a closet.
Eager to tweet with Ferris students, Easlick announces, "I'm ready to share my baggage. Let's chat about design, fashion, marketing and what it takes to be successful." She has her master's degree in Advertising Design and Associates in Visual Communications. Easlick's company is also seeking sales representatives to join her team.
"No matter the industry, there are lessons to be learned. All students can benefit to hear the success of Jacki Easlick," said Public Relations Intern and Event Coordinator Noah Moss, a senior Communication major.
The #ProFresh Twitter Chat is a monthly event that is hosted by Ferris' Center for Leadership, Activities and Career Services. The goal is to bring industry leaders and student leaders together for an evening of conversation and tweets. To follow the conversation, include #ProFresh in your tweets and watch for these handles:
CLACS' Twitter handle is @FerrisCLACS
Easlick's Twitter handle is @Jackieaslick
For more information, visit the Facebook event page: https://www.facebook.com/events/257316057783124/
To learn more about Easlick, visit her website: www.jackieaslick.com
Anyone with a disability who needs special accommodations to attend this event should contact (231) 591-2141 or email [email protected] at least 72 hours in advance.