SAUGATUCK – The Saugatuck Center for the Arts and Kendall College of Art and Design of Ferris State University have partnered to present an innovative exhibition featuring a series of experiential art and design vignettes. The exhibit, "Balancing Point: Centered on KCAD" opens on Friday, Feb. 7. A special reception for the show will be held Thursday, Feb. 20 from 5:30 to 7 p.m. in the SCA's Bertha Krueger Reid Gallery, located at 400 Culver Street in Saugatuck.
That same evening, Feb. 20, from 7 to 8 p.m., the SCA will host an "Intriguing Conversation" with exhibition co-curators Sara Fall and Steven Rainey along with KCAD faculty member Stephen Halko. The trio will discuss the show's concept, collaborative creative process and what the exhibition tells people about the current state of art and design at KCAD. Admission to the event is free.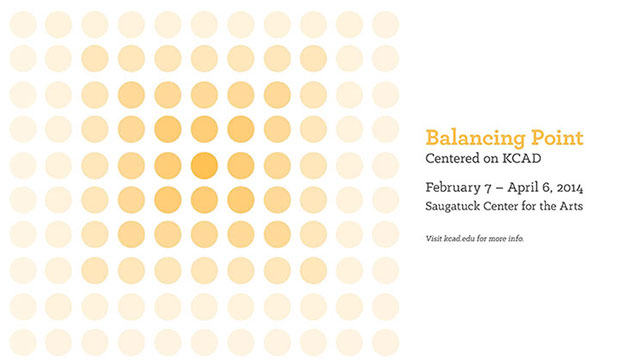 Every piece in Balancing Point's engaging layout – including furniture, paintings, sculpture, drawings and more – was created by hand and curated to transcend the label of its discipline. Rainey and Fall, who curated the show, explained that, "Balancing Point tells a story of craft, tradition and innovation as only KCAD students and graduates can blend them together. This is a wonderful example of the skills KCAD students and practicing alumni possess."
The exhibition features four vignettes, each evoking a different design theme. Steven and Sara worked together to create each arrangement, with the goal of telling a story while also showcasing outstanding art and design work.
The original concept for the show was conceived by Halko and SCA Executive Director Kristin Armstrong. "We approached KCAD about collaborating on an exhibition and were thrilled with their positive response," says Armstrong. "Given the broad array of possibilities for a show, the first hurdle was narrowing the focus." Halko suggested the Barnes Foundation in Philadelphia as a potential catalyst.
The Foundation houses its extensive – and eclectic – collections in a museum that simulates the Marion, Pa., facility which was Dr. Barnes' home. Each room features an array of works including paintings, furniture, and sculpture. "I thought this model could work very well as a showcase for our KCAD students and alumni," said Halko. "We could create several 'vignettes' inside the SCA's gallery exhibiting works from the different programs at KCAD. They would showcase the confluence of art and design that I am surrounded by everyday while also encouraging artists and designers to see the similarities between their disciplines."
In fact, KCAD and the SCA worked collaboratively for several months to bring the exhibition to life. Once the KCAD team agreed on the "Barnes Foundation" concept, curators were recruited and pieces for the show were solicited and juried. Then the vignette design process shifted into gear. Curators Rainey and Fall will spend three full days at the SCA installing the show from ceiling to floor.
At the same time, the College and Art Center were working on an array of promotional materials for the show, special events, ancillary programming, and more. "The months leading up to the opening were very busy and exciting, and I could not have done it without all the help I received from fellow KCAD Professor Gayle DeBruyn, Steven and Sara, the administration and staff at KCAD," says Halko. "This was our first collaborative effort and it was great working with Kristin and SCA, another organization that also has building regional partnerships at the top of its list."
Armstrong says guests will be thoroughly engaged by the exhibition. "On the simplest level this is a gorgeous show with truly beautiful pieces from fiber to ceramics to wood to paper. It's quite astonishing to consider that every single piece was created by a KCAD student or alumnus." The more time a guest spends considering the vignettes the more questions arise about the nature of art versus design, the nature of design in daily living, and, Armstrong says with a laugh, "how one could furnish one's own living spaces with such fabulous products."
Balancing Point is open, free of charge, Monday – Friday, 9 a.m. to 5 p.m. and during evening and weekend events. The exhibition is sponsored byBud Baty and Max Matteson, Susan Reck, KCAD, and the Michigan Council for Arts & Cultural Affairs. Intriguing Conversations are sponsored by Bill Underdown/Hungry Village Tours.
About the Saugatuck Center for the Arts
The Saugatuck Center for the Arts, located at 400 Culver Street, Saugatuck, is a non-profit organization dedicated to creating a more vibrant lakeshore community in West Michigan and beyond. For more information about the SCA and upcoming events, visit www.sc4a.org or call (269) 857-2399.