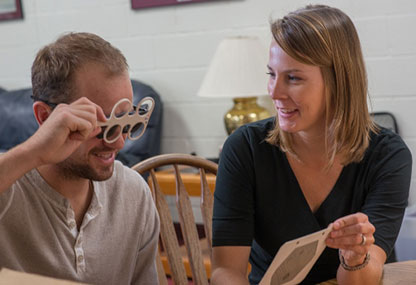 VIDEO: Bulldog hockey players participate in the Sports Vision Training program offered by the Michigan College of Optometry to give them an edge over the competition, here.
The men's ice hockey team at Ferris State University is being challenged to see the game through new eyes, thanks to the new Sports Vision Training program created by the Michigan College of Optometry.
The program, led by Dr. Alison Jenerou, is designed to test and enhance athletes' vision systems to improve performance and give them a competitive edge. It has been incorporated into the hockey team's optional pre-season workout routine.
"Our coaching staff recognized immediately the potential benefits to this type of training," said David Cencer, the Bulldogs' strength and conditioning coach. "Hockey is a fast sport that requires a lot of split-second decisions. You need to know where everyone is on the ice at any given moment, and you need the ability to quickly read a play and react. Anything that can slow down the game, so-to-speak, can be very beneficial in our sport. I think this will help do just that."
About 25 current and former players for the Bulldogs' NCAA Division I team have been participating in the voluntary thrice-weekly workouts, which include vision training exercises to improve depth perception, peripheral awareness and memory, eye-hand coordination and eye tracking.

"Athletes already have superior skills, but improving their visual skills will transfer into even better play on the ice," Jenerou said. "Hockey is a fast-moving sport, and simple vision training techniques can help them slow the game down and give them that competitive edge."

When players arrive for vision training, they work through a series of activities such as a Wayne Saccadic Fixator, more commonly known as the "Circle of Light." By pressing randomly lit buttons on a circle larger than the central vision field as fast as possible, the device is able to test, evaluate and develop accurate and rapid eye-hand coordination. Another station includes the use of Nike SPARQ strobe glasses that help improve reaction time and timing of motion through anticipation.

"We have already seen some benefit in terms of players identifying their strengths and weaknesses," Cencer said. "Obviously, it would be great to see a player visually slow the game down and be able to process things better on the ice – especially for our goaltenders. Any improvement in tracking the puck, reading the play and quickly reacting will be beneficial."

Feedback from players has been positive, he said. Those participating include current players as well as former Bulldogs now playing in the National Hockey League, including former All-Americans Chad Billins of the Calgary Flames and Taylor Nelson of the San Jose Sharks minor league system, and Greg Rallo of the Florida Panthers.

"At this level, players are willing to do anything they think might give them an edge," Cencer said. "They work very hard year-round with off-ice strength training and conditioning, and I think they have approached the vision training with the same attitude. It's also something a little different and kind of fun they can enjoy, so it's been a great complement to our normal training.

"The players have mentioned they can feel improvements, so I'm excited to see the changes on the ice once we begin practicing this fall."

Jenerou and other MCO faculty, including Dr. Bruce Morgan, will analyze data collected for a concurrent research study they hope to publish to contribute to this area of optometry.
"Our vision is that once we establish criteria and overall value to the hockey program, we can branch out to other sports on campus and perhaps into the community," Morgan said. "We believe this is a unique program that can enhance athletes' ability to use their eyes and vision for their particular skill set."

Jenerou is pleased by the hockey players' commitment to the program and excited about its potential.

"Athletes have high physical demands, visual demands to process and react to changes in the game are also high," she said. "Sports vision training helps to keep the visual system in shape to automatically meet those demands during high stress and fast-paced sports."

The Bulldogs open the season on Saturday, Oct. 5 at Colgate University in Hamilton, N.Y. The home opener is Friday, Oct. 18 against St. Lawrence University in Ewigleben Ice Arena.

To learn more about the Michigan College of Optometry, the only college of optometry in Michigan, visit https://ferris.edu/HTMLS/colleges/michopt/homepage.htm.