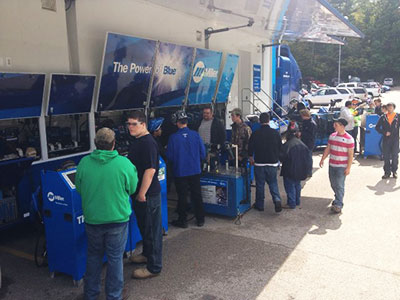 Miller Electric's Road Show Truck made a stop at Ferris State University's Welding Engineering Technology Lab the week of Sept. 16.
The road show was highlighted by a semi-truck equipped with the latest welding power sources and systems. The rig was built for hands-on training and demonstrations as well as meetings and on-board education related to Miller and ITW Welding partner products. Welding engineers and process experts, with in-depth industry knowledge, staff the rig. Jeff Hardesty, associate professor and program coordinator for Welding Engineering Technology, noted that of the 12 Miller Electric staff that visited campus Sept. 16-17, more than half were alumni of Ferris' welding program.
Hardesty was excited to continue to strengthen the strong relationship between Ferris and Miller Electric. He noted that Miller has hired more than 90 interns and full-time students from Ferris' Welding Engineering Technology program over the years.
"The first visit to the Ferris welding lab happened when the Miller Road Show had an extra day in the Grand Rapids area and the grads wanted to show off their truck and equipment," said Hardesty, who noted that the Road Show has been on campus more than 10 times over the years, including every year since 2007. "The Road Show provides an opportunity for students to try the full range of Miller Electric welding equipment and also benefit from technical presentations on a variety of welding topics."
The opportunity for welding students to benefit from a firsthand experience with the road show was a benefit Hardesty quickly recognized. He explained that Ferris students had opportunities to experience the Road Show on Tuesday while students from high schools benefited from a similar experience on Wednesday – with the added bonus of touring Ferris' welding labs.
"The Miller Electric Road Show allows our students to try state-of-the-art equipment covering a wide variety of welding applications," Hardesty said. "This helps us bring even more of the real world into our welding laboratory and makes it more fun for the students. Plus, the students get an opportunity to talk to program alumni who have seen welding applications from all around the country."
Established in 1984, Ferris' nationally-recognized Welding Engineering Technology program is the largest of its kind in the U.S. The program is designed to produce plant-level welding engineering technology graduates who are involved in the concept, design and engineering of weldments and implementation of welding processes.