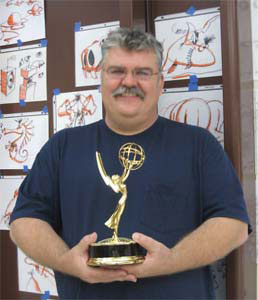 GRAND RAPIDS – Ferris State University's commitment to the Grand Rapids art community, in general, and ArtPrize, in specific, is as strong as ever.
Ferris is sponsoring a family drawing lesson beginning at 7 p.m. Friday, Sept. 27 at Rosa Parks Circle in Grand Rapids. Artist Mark Kistler of PBS' "Mark Kistler's Imagination Station," will lead the drawing lesson. The event will be aired live on Maranda's "Where You Live" on WOTV (Channel 4). The free drawing lesson is open to families with an interest in creating works of art together.
"Ferris State University is excited to partner with Mark Kistler from PBS' 'Imagination Station'," said Donald Green, vice president for Extended and International Operations at Ferris. "Mark joins Ferris at the Applied Technology Center each summer to help young people discover their artistic talents and creativity. We felt bringing Mark to ArtPrize was a natural next step."
Strengthened by the international success of ArtPrize, Green is excited about the future of art in the region. He also is excited about the role that Ferris can play in this effort.
"The future of West Michigan will revolve around great design and innovative thinking so hosting Mark and his giant drawing class contributes to the future of our community," he said.
ArtPrize is an international art exhibition and competition designed to expand the conversation about art and spur economic growth. The event has drawn hundreds of thousands of visitors to Grand Rapids since it began in 2009. The competition boasts the world's largest art prize decided by public vote.