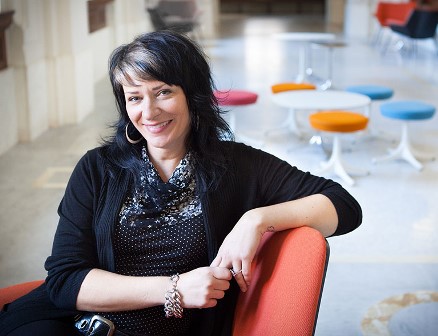 GRAND RAPIDS — In response to the recent expansion of the campus into the Woodbridge N. Ferris building and the subsequent expansion of the exhibitions department, Ferris State University's Kendall College of Art and Design has created a new position: curator of exhibitions. After a national search, local curator Michele Bosak has been selected to fill the position.
"Michele has been a part of the KCAD Exhibitions department since 2009, starting on a part-time basis and then moving into full-time as we expanded our programming. She has a fantastic eye for curation," said Sarah Joseph, director of exhibitions.
Prior to joining KCAD as the Assistant Director of Exhibitions, Bosak held lead preparator positions at the campus galleries of both Grand Valley State University and Northern Illinois University. She also served as a volunteer member of the Visual Arts Coordinating Committee at the Urban Institute of Contemporary Arts from 2003 through 2011, where she curated and co-curated a number of exhibitions.
"Throughout my career, I have focused my energy on assisting artists with their own professional development as both a peer and a professional," Bosak said. "I understand the importance of creating a meaningful connection between the artist and their audience and look forward to the level of programming KCAD will be able to provide to its students and the community."
In her new role, Bosak will be tasked with making the most of the new Fed Galleries, which provide over 3,500 sq. ft. of exhibition space inside the renovated Woodbridge N. Ferris building. The space's high ceilings and professional-quality lighting have dramatically improved the department's ability to attract and exhibit high-caliber artistic talent.
"It's a significant expansion from our previous space, both in size and scope as well as the level of exhibitions we have planned for the future," Joseph said.
Bosak added, "There's a definite charge in the air at KCAD right now. One that is eager, committed and full of possibilities."
Bosak is curating KCAD's 2013 ArtPrize exhibition, "Designed to Win," and is also serving as a special 2013 ArtPrize curator for the city's prominent Blue Bridge, which will feature the work of mixed-media artist Liz Miller, from Good Thunder, Minn. The two also collaborated for ArtPrize in 2012, when Bosak recruited Miller to design a mixed-media installation for the atrium of KCAD's 17 Fountain NW building.