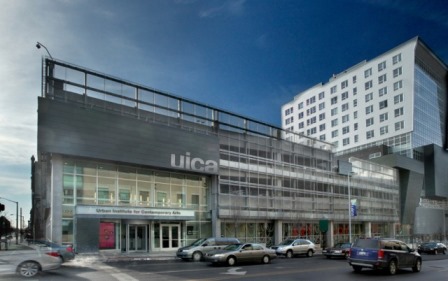 GRAND RAPIDS – In response to the growing demand for interdisciplinary art shows and events, and the need for a flexible space, the Urban Institute for Contemporary Arts announced the creation of its new Art Commons, expected to open in early 2014.
The Art Commons is expected to be a magnet for a wide variety of artists, designers and creators, and will function as a dynamic exhibition, event, art conservation and preparatory space. UICA will locate the Art Commons in the space that currently houses the Urban Clay Studio. This is the largest and most public studio and exhibition site in the building. It is located in a sunken two-story room on the ground floor, with gallery windows that allow passersby to view installations and watch artists as they hone their craft. The Urban Clay Studio will remain open until Dec. 31, 2013.
The new Art Commons will host expanded adult classes, artist workshops and critiques, as well as provide a meeting place for local groups such as DAAC, Heartside Business Association and Avenue for the Arts. It is expected to bring community members from various disciplines and backgrounds together to collaborate and learn from each other.
"While we are sorry to remove this resource for the dedicated ceramics artists who used it regularly, we believe that a more multipurpose studio approach will best serve our mission of engaging contemporary artists and audiences in the Grand Rapids community and beyond," said Miranda Krajniak, UICA executive director. She further noted that no UICA personnel will be affected by this change, and that the members of the Urban Clay Studio will be allowed to complete their memberships.
In addition to the collaborative working and event space, the Art Commons will include a gallery area featuring large-scale hanging artwork, projections and other work that requires a nontraditional environment. The large street-level windows will showcase art for the entire downtown area. For information about the Art Commons and renting the space for meetings, workshops or small events contact the UICA.
In August 2013, Ferris State University and its Kendall College of Art and Design announced a merger with UICA. Today, UICA is now a wholly-owned subsidiary of Ferris and KCAD.