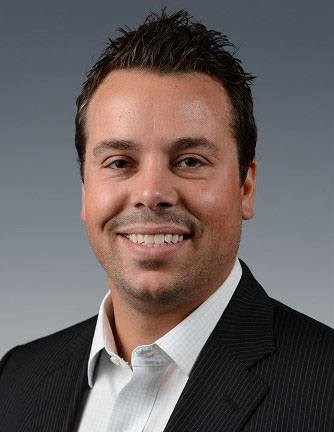 Kristian Schroder, a Ferris State University alumnus with significant business experience and a keen sense for teamwork fueled when he played hockey for the Bulldogs, has been appointed to The Ferris Foundation Board of Directors.
Schroder, who graduated in 2002 with a Bachelor of Science in International Business, is vice president and regional sales manager for Westcore Funds, a Denver-based investment firm.
"It has been the board's goal, as guided by President (David) Eisler, to recruit some of the top graduates of Ferris State University to help guide our progress into the future," said board chair Kevin Cross. "Kristian brings dynamic youth, energy and international experience to our board, and we're honored to have him as part of our team."
Schroder left his home in Malmo, Sweden, at the age of 18 to pursue a dream of playing collegiate hockey. He spent two years in Canada before he was recruited to attend Ferris and play for the Division I Bulldogs. The opportunity proved to be the catalyst for a successful career.
After graduation, he spent the next nine years working in investment and financial services for MSX International in Auburn Hills, Mich., and Morgan Stanley and then Morningstar, Inc. in Chicago before moving to Oslo, Norway for a two-year international assignment. He returned to the U.S. in 2008 and moved to Denver to serve as Morningstar's regional sales director for the West Coast. He has been with Westcore Funds since January 2012.
Schroder's range of investment and software sales experience has been recognized with numerous industry awards.
He credits his experience as a student-athlete at Ferris with preparing him for the real world.
"Managing two full-time commitments during my four years at Ferris truly helped me understand hard work, discipline, teamwork, empathy, competitiveness, success and failure, and the ability to take criticism," said Schroder, who is fluent in Spanish, Swedish, English and Norwegian, and has basic language skills in French. He minored in Spanish at Ferris.
While he appreciated the faculty and resources Ferris provided, and the opportunity to play hockey, his favorite thing about the university is that it's where he met his wife, Jaime. He married the Early Childhood Development major in 2004 in her hometown of Midland.
"It may sound cliché, but when you think about all the other memories, however great they were, the biggest influence and supporter in my life is my wife," said Schroder, who resides in Highlands Ranch, Colo., with his family. "Without having met Jaime, I would have not had these three amazing children, and my experiences and path of life would have probably been much different."
He maintains contact with Ferris friends and teammates, and follows Bulldog hockey.
"Hockey is always on my mind; I follow the team online and talk to the coaches a few times a year as well," the former defenseman said. "I always want to be a resource for the young men who decide not to continue hockey and need help with their next step into the real world."
Schroder is thrilled with his appointment to The Ferris Foundation Board of Directors and is ready to make a contribution.
"I hope that my experience from my time at Ferris, both as a student and a hockey player, alongside my career experience in the investment industry will bring some valuable insight and contributions to the Foundation board as should my diverse background and experiences from around the world," he said. "I will be able to bring a lot of enthusiasm and energy – I'm here to help The Ferris Foundation remain a difference-maker."
The Ferris Board of Trustees approved Schroder's appointment during its regular meeting in October.
Since it was established in 1991 to address the need for a long-range fundraising program to provide opportunities for students, The Ferris Foundation has increased endowment funds to more than $35 million. It is governed by the board of directors, whose members are appointed for three-year terms.