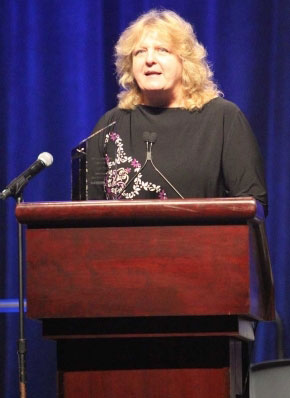 DETROIT – Mary Dyer, of Michigan Collegiate Middle School and High School, was named 2013 Charter School Teacher of the Year during the 16th annual Michigan Charter School Conference at Cobo Center in Detroit. The early-November event was hosted by the Michigan Association of Public School Academies.
Michigan Collegiate is an addition to Connor Creek Academy East to serve middle and high school students. Michigan Collegiate currently enrolls 1,128 students in grades seven through 12. Michigan Collegiate is located in Warren while Connor Creek Academy East is based in Roseville. The mission of these Ferris State University charter schools is to create responsible citizens and inspire students to become lifelong learners in a caring, diverse and supportive environment.
Ferris' Charter Schools Office was recognized as a gold sponsor for the 16th annual Michigan Charter School Conference.
While Dyer earned teacher of the year, the other major award was for administrator of the year. That award was presented to Shawn Leonard, of East Arbor Charter Academy. That academy is chartered by Grand Valley State University.