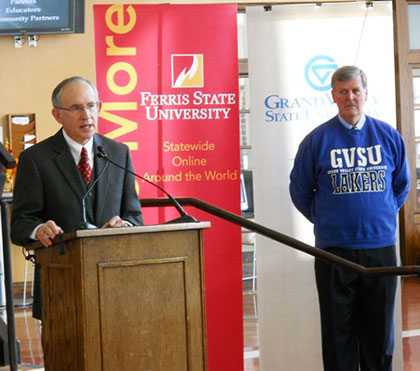 GRAND RAPIDS – Ferris State University, along with Aquinas College, Grand Rapids Community College and Grand Valley State University, has created a special scholarship package to support Grand Rapids Community Foundation's Challenge Scholars program.
The Challenge Scholars program, which begins with sixth grade students at Grand Rapids' Harrison Park School and Westwood Middle School, is designed to help those students to succeed academically and ultimately earn a college degree.
"Ferris State University has been an active partner with the Grand Rapids Community Foundation in its efforts to encourage students to attend college," said Ferris President David Eisler. "We are pleased to support the efforts of the Challenge Scholars program and look forward to encouraging these students not only to attend college, but to graduate."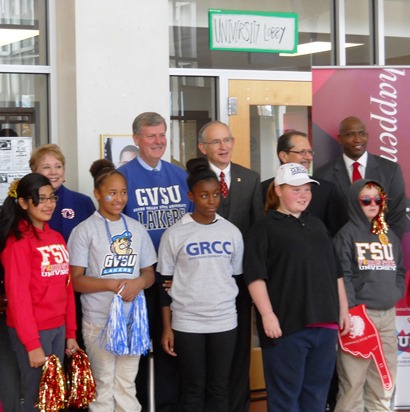 Eisler joined GRCC President Steven Ender, GVSU President Thomas J. Haas, Aquinas College President Juan Olivarez, Grand Rapids Public Schools Superintendent Teresa Weatherall Neal and GRCF President Diana Sieger in a formal announcement of the program this morning at Harrison Park School.
"When Challenge Scholars launched two years ago, these four colleges became some of our strongest champions," Sieger said. "The scholarship commitments we announce today add another element to the partnerships that are already bringing additional resources to students, parents and faculty at our three Challenge Scholars schools. I'm grateful to our partners for their caring and generosity."
"Challenge Scholars is a game changer and the momentum continues to grow thanks to partnerships like these," Weatherall Neal said.
Students who complete program requirements and graduate from Union High School will receive a "last dollars" scholarship from the Community Foundation. The value of the scholarship depends on family income and which college the student chooses to attend. The scholarship packages that Ferris and the other schools have created are set aside for Challenge Scholars students specifically.
(Top) Ferris State University President David L. Eisler is shown speaking at the event. Next to him is Grand Valley State University President Thomas J. Haas.
(Bottom) In the back row are Diana Sieger, president, Grand Rapids Community Foundation; Thomas J. Haas, president, Grand Valley State University; David L. Eisler, president, Ferris State University; Juan Olivarez, president, Aquinas College; and Harrison Park Principal Troy Wilbon.