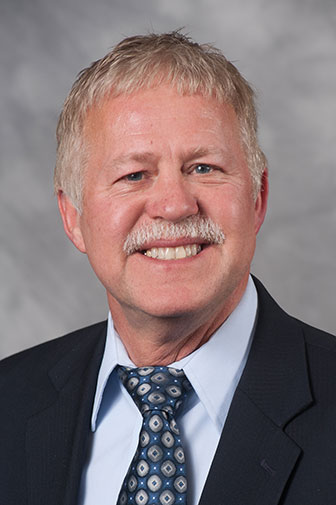 Dr. Joel Robertson, an internationally known expert on brain chemistry, widely recognized clinician, bestselling author and in-demand lecturer, is being honored by Ferris State University with an Honorary Doctorate of Health Services.
His fondest memories of Ferris include "many of my classmates, some of the food fights in the cafeteria and having my suitemate have to go to the clinic for indigestion for laughing too much while eating."
Robertson, who graduated in 1974 with a Bachelor of Science in Pharmacy, thoroughly enjoyed the social life at Ferris and called his education "invaluable."
"Outside of the social aspects, I absolutely found the field of pharmacology to be fascinating," said Robertson, who will receive the degree during commencement ceremonies at 7 p.m. Friday, May 10 in Big Rapids. "The education I received from Ferris prepared me to interact, develop, discuss and perform at the level that was asked of me through the years."
Robertson, who went on to earn a Doctor of Pharmacy degree from the University of Michigan and completed postgraduate studies in chemical dependency and family system therapies at Harvard University, specializes in neuropharmacology with concentrations in psychiatric and cardiovascular pharmacology.
Robertson has created brain chemistry optimization programs used by consumers, professional athletic programs and corporations worldwide, including General Motors, Fuji Photo Films, Dow Corning Corporation, New South Wales University, Glaxo-Smith Kline and the U.S. Department of Defense. Government projects included development of national treatment protocols for behavioral emergencies and consultation on development of protocols for cardiovascular emergencies for emergency medical services.
He is a featured speaker at numerous American Medical Association and other professionally sponsored conferences. More than 500,000 people have attended Robertson's presentations in 80 countries.
He is the author of eight books and multiple self-help audio series and television shows. His research assumptions have been published in such journals as the New England Journal of Medicine and the Journal of the American Medical Association.
He is the founder of Robertson Health, a network of for-profit and non-profit health and wellness companies.
Robertson Wellness offers behavioral medicine programs that utilize the science of brain chemistry to improve individual health and wellness. Robertson Research Institute is a non-profit that focuses on research and development.
Robertson Global Health Solutions provides RHealthAdvisor, medical knowledge software that can be used on mobile devices and customized for consumers and healthcare providers worldwide. The software was nominated by Steve Ballmer, CEO of Microsoft, for a ComputerWorld Honor in medicine and chosen as one of five finalists in the program, which recognizes technology that benefits society.
"My vision is of a truly global medical solution – one that would save lives worldwide through faster, more accurate diagnosis," he said.
Ferris officials chose to recognize Robertson for his effort to enhance lives and advance the knowledge of health care professionals, and for his passion for the university and higher education.
"I find what I do is something that I love and tend to do because I enjoy it and hope to someday make a difference," said Robertson, who is active with Ferris' Pharmacy Forward philanthropic initiative.
Robertson lives in Saginaw with his wife, Vickie. They have three daughters.
More than 1,700 of 1,850 Ferris students who are candidates for degrees will participate in spring commencement ceremonies on Friday, May 10 and Saturday, May 11 in Big Rapids. Graduates will be honored during five ceremonies over the two days in the Convocation Center (Wink Arena) in the Ewigleben Sports Complex on campus.
Also receiving honorary doctorates will be Richard L. Antonini, the retired CEO and chairman of Foremost Corporation of America, and Lupe Ramos-Montigny, a retired educator who serves on the State Board of Education and on the advisory board for Ferris' Center for Latino Studies.
Ferris' Kendall College of Art and Design will hold its commencement at 10:30 a.m. Saturday, May 11 at Fountain Street Church in Grand Rapids. Of the 249 students who will receive degrees, almost 190 are expected to participate in the ceremony that will include recognition of renowned illustrator Murray Tinkelman with a Doctor of Arts.