J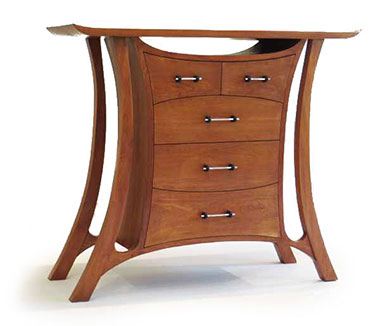 acob B. Blok, of Kalamazoo, has been selected as the 2013 Excellence Award Winner for the Furniture Design program at Ferris State University's Kendall College of Art and Design.
Kendall presents an Excellence Award to one graduating senior in each program of study. The KCAD faculty chooses each award winner based on their outstanding accomplishments in their area.
"The Excellence Award winners represent the epitome of KCAD student achievement," said Kendall President David Rosen. "They show a mastery shared by all our students, but taken by these few to a rare level. It is a privilege to be in a community of young artists and designers like them, who so clearly have skills to shape the future of their chosen fields."
Blok's work blends sculptural forms with the natural structure of wood. His use of curved form draws inspiration from the material as well as natural elements. Each piece he designs demonstrates his passion for a uniqueness that integrates functionality and spatial parameters.
Blok recently placed as a finalist in nationwide competitions that have led to not only personal accolades, but also recognition for Kendall. He also is the recipient of the Celia Moh Scholarship.
After graduation, Blok plans to grow the business he started while at Kendall.
"I have found Kendall to be a wonderful place for professional development, as well as the skills I have learned," he said.
"The Excellence Awards are presented in recognition by the program to students that best demonstrate the skill development and learning of that program," said Dean Max Shangle. "Selections are made using various criteria: GPA, program and/or institutional involvement, growth and potential. In every case the students receiving Excellence Awards represent the best of KCAD."
The complete list of this year's Excellence Award winners is as follows:

Art Education-Katelynn S. Funk
Art History-Anna C. Vanderjagt
Digital Media-Alyn Tran
Drawing-Jennifer Jones
Furniture Design-Jacob B. Blok
Graphic Design-Katherine L. Folkert
Industrial Design-Sarah Darnell
Illustration-Alyssa A. Parsons
Interior Design-Sharon Schlueter
Metals Jewelry Design-Stephanie R. McCarthy
Painting-Sandra R. Hansen
Photography-Robert A. Coombs
Printmaking-Leah E. Robbins


The award winners will display their work in The Fed Galleries at the Historic Federal Building, 17 Pearl St. NW, through the end of July.
As a unique part of Ferris State University, Kendall College of Art and Design prepares students for leadership in the visual arts, design, art history, and art education; provides innovative, collaborative education that fosters intellectual growth and individual creativity; and promotes the ethical and civic responsibilities of artists and designers, locally and globally. For more information, please visit www.kcad.edu.