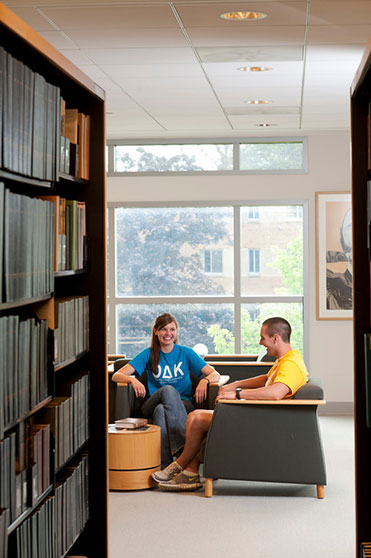 Ferris State University has entered into a statewide articulation partnership with the Michigan Department of Education that exemplifies the university's commitment to strengthen access to education for the state's high school students.
The new agreement, signed in April in Lansing by Ferris President David Eisler and Michigan State Superintendent of Education Mike Flanagan, is representative of a formal partnership that takes effect July 1. As part of this new pact, the university will provide statewide secondary articulated credit agreements that benefit Michigan high school students. Ferris will continue its collaborations with the MDE, the Michigan Office of Career and Technical Education, Michigan high schools, and the state's career and technical education centers.
"As a career-centered university, Ferris State University is committed to building strong relationships with career technical education centers and high schools," Eisler said. "I am delighted that we are the first public university in Michigan to implement these statewide articulation agreements."
Secondary articulation agreements are formal pacts between secondary and postsecondary institutions designed to help students pursue higher education. The MDE notes that articulation agreements "provide a systematic, seamless transition process from secondary to postsecondary education that maximizes the use of resources and minimizes content duplication." Through the articulation process, Ferris is able to formalize and strengthen its collaborations with career and technical education centers as well as high schools in Michigan while maintaining consistency when awarding articulated credits to students.
The partnership recognizes the quality of content and rigor in the Michigan career and technical education programs. When CTE programs are aligned with Ferris programs, all Michigan state-approved CTE programs will be covered under the agreement.
Earlier accumulation of college academic credit may also help students reduce student debt and the time it takes to earn a degree.
"I applaud President Eisler for taking this step to provide opportunities for high school CTE students across the state to earn credits toward a degree at Ferris State University. Statewide credit transfer agreements increase opportunities for students to earn postsecondary credits before leaving high school," Flanagan said. "The biggest benefit in this agreement is that the college and the high schools appropriately aligned their courses so students are adequately prepared for a smooth transition into the programs offered at Ferris."
Under the new agreement, the university and corresponding faculty members evaluated Michigan Career Technical Education program standards. The faculty members involved in the review determined which Ferris courses are compatible with the secondary program so that students may apply for articulated credits as well as the criteria that a student must meet to be granted articulated credit, according to the agreement.
One of the primary agreement goals is to strengthen consistency and academic credit when granting articulated credit to students.
This articulation agreement is valid until one or both parties choose to dissolve the partnership.
Statewide articulation agreements for Ferris State University can be viewed on the Transfer Services Center website here.