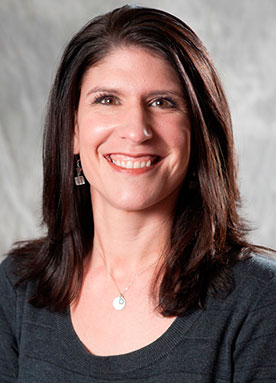 Andrea Wirgau, assistant director of Ferris State University's Doctorate in Community College Leadership, is working to develop and grow the university's program to train future leaders of community colleges.
Wirgau was one of 18 participants from around the United States selected to participate in the American Association of Community Colleges' John E. Roueche Future Leaders Institute held Feb. 17-22 in Phoenix. The intensive retreat was designed for mid-level community college administrators ready to move into a higher level of leadership.
"I found many things beneficial, most importantly the chance to connect with national leaders in our program," said Wirgau, who joined Ferris in 2010 and has played a key role in development of the program housed within Extended and International Operations. "Ferris is on the map nationally now, and it is imperative we stay abreast of current trends, issues and statistics so as to best prepare future leaders of community colleges."
Ferris' three-year doctoral program, tailored to meet the needs of working adults who want to lead mission-driven and evolving community colleges, will graduate its inaugural cohort in May. The program's fourth cohort of aspiring leaders begins the same month.
Wirgau is pleased with the knowledge gleaned during her Roueche Institute participation.
"I drew forth ideas for our curriculum and overall cohesion that will add to our delivery of a top-notch program," she said. "It was fantastic to network and be able to discuss ideas that are so pressing upon today's community college agenda."
Roueche, a nationally recognized authority in community college education, has played an important role in shaping community college leadership over the last 40 years. He has written 35 books and more than 150 chapters and articles, has spoken to more than 1,300 community colleges and universities since 1970 and has accumulated numerous honors and awards.
Sessions included a panel discussion with Roueche and American Association of Community Colleges President and CEO Walter Bumphus, as well as sessions focused on fundraising, communication, technology and leadership.