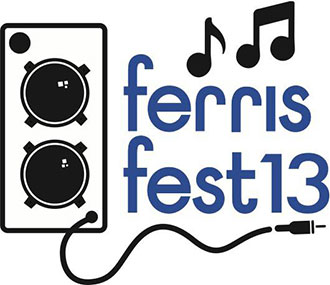 Ferris State University's annual spring concert, Ferris Fest, mixes it up this year with two headliners. Rock band Motion City Soundtrack and rapper Yelawolf will be performing Saturday, April 27 in the Campus Quad.
Ferris Fest begins at noon and runs
through 6 p.m. on the Big Rapids campus. This event is free and open to the public.
"This year, we wanted to book hip/hop and rock acts because those were the top two categories chosen by Ferris students on the Ferris Fest survey," said Adam Donaghy, Special Events Coordinator for Entertainment Unlimited. "We thought that these two acts featured relevant artists that students would recognize and enjoy."
Ferris Fest is an annual outdoor concert that features nationally-known musical acts, novelties, activities and food. The event is hosted by Entertainment Unlimited, a campus student organization that is dedicated to bringing diverse events to Ferris. Previous Ferris Fest artists include Travis Porter, All Time Low and Sean Kingston.
"Ferris Fest is important because is serves as a big end-of-the-year celebration," said Donaghy, a senior in Music Industry Management from Midland. "It's something that students always look forward to, and it's free."
The Ferris Fest headliners were announced on Thursday night, March 21, during the #ProFresh Twitter chat event hosted by Career Services, EU, and Student Leadership and Activities.
You can find out more about Entertainment Unlimited here:
https://www.facebook.com/ferriseu/info