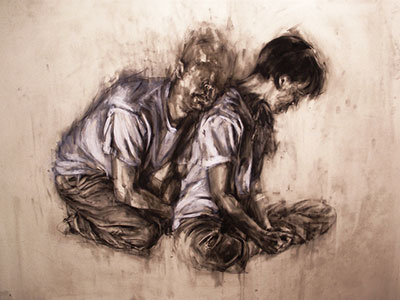 "The Things I Do," an "eloquent and moving" drawing by Damian Goidich, is the winner of the Excellence in Art Purchase Award from Ferris State University.
Goidich, who will earn a master's degree in fine arts from Ferris' Kendall College of Art and Design in December, is an adjunct instructor in the Illustration program at the Grand Rapids-based school. He created the drawing for his thesis work.
"I consider my participation in the MFA Graduate Drawing program at Kendall to be one of the most rewarding experiences of my life," Goidich said. "Kendall is very fortunate to have such a strong group of talented artists and faculty overseeing the drawing discipline. I am grateful for the opportunity to study under their guidance."
He is the second winner of the art competition, instituted in 2012 by the Rankin Art Gallery, in cooperation with the Humanities Department and the College of Arts, Sciences and Education, to recognize the strength of MFA student artwork at Kendall.
The $1,000 Purchase Award is determined by a committee of faculty and staff, and a guest juror. This year, Grand Rapids Art Museum Associate Curator Cindy Buckner served in that role.
"Damian Goidich's piece is eloquent and moving, the draftsmanship so compelling that it draws you in and keeps you there," Buckner said of Goidich's work.
The drawing will be displayed in the lobby of Williams Auditorium on the Big Rapids campus, and a solo exhibition of his work will be scheduled. Rankin Art Gallery Director Carrie Weis is working with Goidich on details of the solo show in the wake of the gallery's temporary closure.
The gallery closed in May as part of the University Center project, but a partnership with Artworks in Big Rapids will allow some art to be displayed during construction. The new gallery will open in January 2014.
Goidich, a Detroit native, attended Kendall as an undergraduate from 1987 to 1992, worked as a freelancer for 12 years and returned to complete his Bachelor of Fine Arts in Illustration in 2005. He has been an adjunct in the Illustration program for seven years and will complete his master's degree following completion of an Art History class this fall.