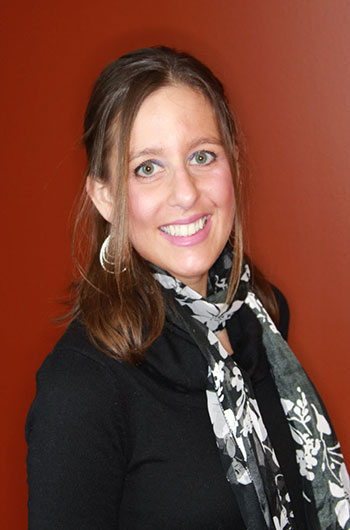 Dr. Amy Dinardo, an assistant professor in the Michigan College of Optometry at Ferris State University, will serve a second term on the American Optometric Association's Faculty Relations Committee.
Dinardo, who joined Ferris in 2011, was recently re-appointed to the committee, which works to improve communication between the AOA and faculty members working at colleges and universities of Optometry in the United States, Canada and Puerto Rico.
"I am highly involved in organized optometry, so when AOA Trustee Hilary Hawthorne visited the Michigan College of Optometry and asked for a volunteer, I was first to raise my hand," said Dinardo, who graduated from MCO in 2007.
In addition to her involvement with the AOA, Dinardo is past-president of the West Michigan Optometric Association, a fellow of the American Academy of Optometry and an AAO committee member.
She also is active at Ferris. In addition to teaching, Dinardo is involved with continuing education workshops, is an executive committee member of the Academic Senate and serves as adviser for Ferris' chapter of the American Optometric Student Association.
Dinardo is collaborating this summer with Doctor of Optometry major Trevor Fosso on a research project for the MCO's Vision Research Institute. The project, made possible by a Student Research Fellowship granted by the Office of Academic Research, focuses on multifocal contact lens success.
"My top priority as a professor is to provide an innovative educational experience and ensure that MCO graduates top-notch clinicians to serve the community," Dinardo said.
The Springfield, Ill., native holds a Bachelor of Science in Biology from St. Mary's College in Orchard Lake and a Master of Business Administration with an Advanced Studies Certificate in Management Tools and Concepts from Ferris.