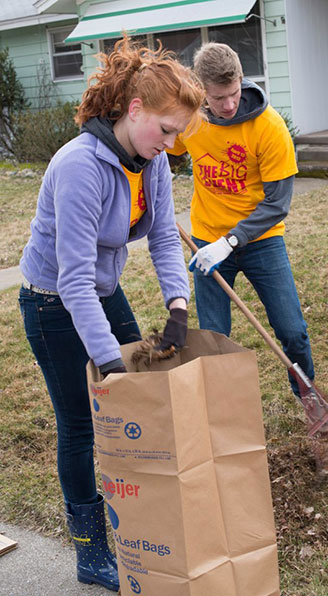 Ferris State University was presented with the Engaged Campus of the Year Honorable Mention award from Michigan Campus Compact for at a ceremony in Lansing, on Wednesday, April 24. This award recognizes the deep commitment a Michigan college or university has made to education that connects students to their community and to real-world issues. Northern Michigan University, which was named Engaged Campus of the Year, was the other honoree.
"Ferris has long been devoted to assuring its students are connected to their discipline, their campus and their community," said Ferris President David Eisler. "Our university is very gratified to see this commitment recognized."
Among the civic engagement projects the university cited in its nomination, were "The Big Event," which matches student volunteers to local home and community improvement projects, and the work of Architecture and Sustainability students who re-designed bike pathways for the City of Big Rapids.
"The level of positive interaction between students and Big Rapids is probably as great, or greater, than it has been at any time in our history," Eisler said. "Advised and assisted by Ferris faculty and staff, our students have really taken the lead in combining their academic pursuits with social engagement."
In addition to examples of student and faculty engagement, Ferris cited the launch of its Center for [email protected] Studies and expansion of its Jim Crow Museum as being among the ways the university has articulated its public purpose at an institutional level.
The other nominees this year were Central Michigan University, Delta College, Lawrence Technological University and Madonna University.