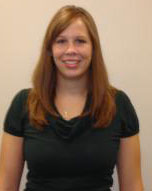 Ferris State University has awarded Cynthia Brown of Chesterfield, Mich., the Vision Service Plan Scholarship.
Brown, the daughter of David and Linda Brown, is a junior studying Optometry at the Michigan College of Optometry on Ferris' Big Rapids campus.
The scholarship is awarded to two students based on their demonstrated excellence in clinical care and academics. Candidates must also show a commitment to entering private practice as well as having demonstrated leadership skills.
During her time at Ferris, Brown has taken part in the Fellowship of Christian Optometrists, Student Volunteer Optometric Services to Humanity, Beta Sigma Kappa Optometric Honor Society, Michigan Optometric Private Practice American Foundation for Vision Awareness, and Optometry Student Government.
"I became interested in the sophisticated system of vision after an anatomy course during my senior year in high school, and job shadowing a few optometrists during undergrad further solidified my love for the profession," Brown said.
She completed her undergraduate studies for a degree in Biomedical Science at Grand Valley State University in Allendale.
Recipients are chosen by the MCO faculty through the Scholarship and Award Committee.
To learn more about the Michigan College of Optometry, visit https://ferris.edu/mco/.
For more information about the Vision Service Plan Scholarship or to learn more about other scholarship opportunities, go to: https://ferris.academicworks.com/opportunities?utf8=%E2%9C%93&term=Optometry&commit=Search.