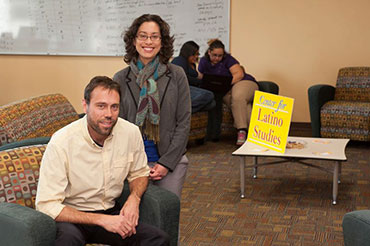 Room 131 in Ferris State University's Interdisciplinary Resource Center has been transformed into an Intercambio Cultural – a welcoming space of cultural exchange – for students, faculty, staff and the community.
The space is now home to the Center for Latino Studies, one of two new Ferris initiatives designed to enhance the university's connections with West Michigan Latino communities. A grand-opening celebration, which will feature a performance by popular Grand Rapids musical collective Cabildo, is 7:30 to 9:30 p.m. Tuesday, Nov. 27.
"Our goal is as simple as having a space where students can connect with each other," said Tony Baker, the center's executive director. "But we also want it to be a place where faculty and community members can encounter each other and our students."
Ferris established the center last summer to provide educational, social and leadership-development opportunities within Latino communities through student, academic and community connections. The center's space in IRC Room 131 will provide a "home base" for Latino students as well as students and others interested in Latin American culture.
"We have Latino students on campus who have gone an entire semester without speaking Spanish, because they haven't met any other Latino students," Baker said. "This will be a student union-type space for them to meet and hang out."
Additionally, the center will be a place for Latino student organizations to meet and host events, and for Ferris faculty and staff to promote Latin American immersion programs. Latino students also will find academic resources and networking opportunities.
The center will be collaborating with campus organizations on various events and resources that promote cultural collaboration, such as "Spanish Table," an initiative with the Spanish Club that fosters Spanish-language learning for students and faculty.
"The possibilities are endless," said Baker, who will be based in the center along with associate director Jessica Cruz and other staff.
The center also will house a workspace for Carlos Sanchez, who earlier this month was named director of the Latino Business and Economic Development Center, another new Ferris initiative designed to help the university connect with the growing Latino population in West Michigan.
Sanchez, former executive director of the West Michigan Hispanic Chamber of Commerce in Grand Rapids, will head efforts to spur economic growth through development of entrepreneurial leaders and networking opportunities.
The Center for Latino Studies will develop outreach programs in Latino communities in West Michigan and throughout the Midwest to establish connections that result in access to higher education, service-learning projects and internship opportunities.
"Our immediate focus will be on Latino communities in Grand Rapids and Holland, and migrant communities in West Michigan," said Baker, who also is a member of the Grand Rapids Public Schools Board of Education. "That's a good start."
As a result of this initiative, a collaboration is in the works between the College of Pharmacy and students in GRPS's health science program, he said. A partnership between the College of Arts, Sciences and Education' Social Work program and migrant communities also is being explored.
"What I really want to do is connect existing Ferris programs and Latino communities," Baker said. "By sharing resources with each other, we can prepare our students to work in the global community."
During the Nov. 27 grand opening, visitors also can view an exhibit of photographs on loan from the Mexican Consulate in Detroit to celebrate its "new collaboration" with the Center for Latino Studies. Counsel General Vicente Sanchez offered its "Dia de los Muertos (Day of the Dead)" exhibit after meeting Baker last month at a World Affairs Council event in Grand Rapids.
The exhibit features images taken during a "Day of the Dead" celebration in a village in Mexico. The images are on display in the hallway between the Office of International Education and the Center for Latino Studies. Baker said the hallway space, an extension of the Rankin Art Gallery, will feature revolving exhibits.
The "Dia de los Muertos" exhibit will be on display through the end of November. The annual holiday, celebrated in Mexico and in other Latin American communities around the world, honors the dead.