R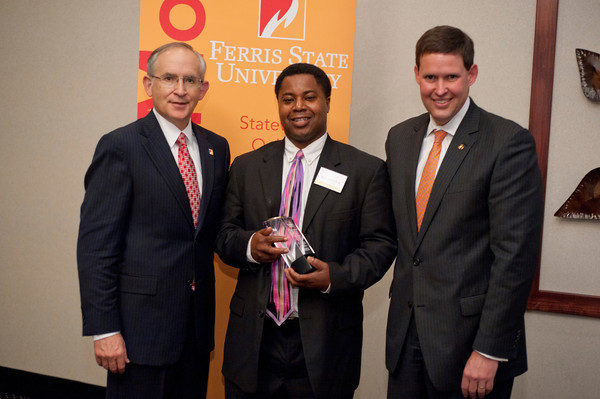 ecco Santee Richardson, a mental health professional providing clinical assessments, individual and family counseling and other services through Recco S. Richardson Consulting, Inc., has received the Ferris State University Pacesetter Award.
The Ferris Alumni Association's tradition of recognizing outstanding graduates is an important one, said Jeremy Mishler, director of Alumni Relations.
"This recognition helps to highlight wonderful examples of individual success and fulfillment that our students and fellow graduates can aspire to and be proud of," Mishler said. "It also keeps alumni connected to the university faculty and administration in a way that supports Ferris through their expertise, professional networks and personal philanthropy."
Richardson, who earned a bachelor's degree in Public Relations from Ferris in 1987, received the award during the Alumni Association's annual spring reunion in May at the Holiday Inn Hotel and Conference Center in Big Rapids.
Richardson also is an adjunct faculty member instructing master's-level counseling courses at Spring Arbor University in his hometown of Flint. He is an American Psychotherapy Association board-certified counselor as well as a State of Michigan licensed professional counselor.
Richardson's community service includes being an anger group facilitator at Scott Elementary School, board secretary at Carman-Ainsworth Schools, family consultant at Genesee Special Education Support Group, board member at Richfield Charter Academy School and health committee chair at Flint Community Schools, among others.
He has given many presentations and interviews, as well as written and published on a range of mental health topics, including bipolar disorder, school anxiety, childhood and adult depression, youth violence and many others.
The Ferris Alumni Association Board of Directors and the Distinguished Alumni Awards Committee established the Pacesetter Award in 1998. The award is designed to recognize recently graduated alumni who, while pursuing their professional endeavors, are "setting the pace" for more recent Ferris alumni to be involved with their communities and the university.
The award is given to alumni who demonstrate leadership and service to their profession, community, service organizations and to the university. Ferris alumni who have graduated within the past 13 years are eligible for the award.