Angela Walukonis
Hometown: Muskegon
Degree: Bachelor of Science in Technical and Professional Communication
On Ferris: "The connections students make at Ferris go way beyond the classroom, and the faculty here really focuses on helping students succeed. I wanted to make an impact on Ferris, but it truly has made an impact on me."
Point of Pride: "Being able to showcase my personality in class, at events and around campus knowing I have a support system here unlike anywhere else."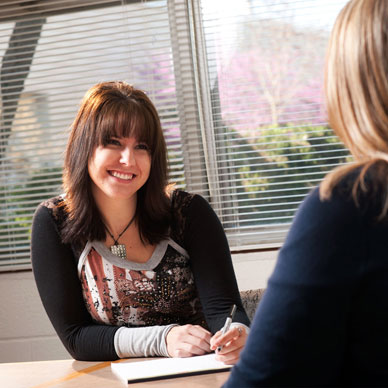 Angela Walukonis knows what she wants to be when she grows up. And she gets to do it in the most magical place on earth.
The 21-year-old from Muskegon will begin her career this summer at Walt Disney World in Lake Buena Vista, Fla., where she will put her new Bachelor of Science degree in Technical and Professional Communication to work. Walukonis landed an internship in internal communications and will work with Disney College Program students.
Walukonis is already familiar with the program. After graduating in 2008 from Mona Shores High School, Walukonis attended Muskegon Community College, where she earned an associate's degree in Arts, Sciences and Education. After completing her degree, she got a six-month paid internship with Disney.
"I met people from around the world and learned how to transform vacations by simply talking to people. This turned my focus to a degree in communication," Walukonis said. "Without that internship at Disney, I think my life would be a lot different."
When she returned to Michigan, Walukonis was ready to work toward a bachelor's degree. She abandoned initial plans for a career in dental hygiene and entered Ferris' Technical Communication program.
"I never knew what kind of difference a college education would make in my life, but now I do," Walukonis said.
She adapted her major to meet her additional interests by completing a specialty in Public Relations and Special Event Planning. She further developed her communications skills through networking events, classroom presentations, group projects and one-on-one instruction.
"I wasn't just another student in another class to the professors," Walukonis said. "They know me by name and want me to succeed."
Her work toward the Public Relations specialty led her to a class with College of Business associate professor Patrick Bishop, a man she describes as "a phenomenal professor who is so dedicated to his students and the program."
"Not a single class went by without purpose or meaning to it," she said.
When she came to Ferris, Walukonis wanted to become involved in as much as possible. She joined The Torch newspaper staff as a photographer and news writer, played Club Tennis and joined Entertainment Unlimited, the campus programming board. She also became involved with the hospitality program and participated in the Ferris chapter of the National Association of Catering Executives networking events.
"At first, it was just for fun, to meet people," said Walukonis, who has worked the past two years as a writer in the News Services department of University Advancement and Marketing.
This school year, she joined the executive board of EU as publicity coordinator and became Opinions editor for The Torch. And she acted on her love for Disney and became a Disney Internships and Programs Campus Representative, and created a Disney Internships and Programs Alumni Association Registered Student Organization open to all students.
And if that wasn't enough, she also participated in FSU Theatre's performance of the musical "Avenue Q."
"I don't sleep," she said with a laugh. "I wanted to experience as much as I could in as many ways as possible."
Walukonis said she would have been "lost without her advisor, Languages and Literature department head Sandy Balkema, "who really helped guide me over the past two years, especially when I didn't know what I wanted to be when I grew up."
"Angie's energy and enthusiasm, and her dedication to professionalism has been incredible, and it impacts the students around her," Balkema said. "Disney is the perfect place for her to start her career. She fits their whole philosophy of making people happy.
"She is the kind of student we like to claim we taught."
Walukonis hopes her internship at Disney turns into a full-time job. She would love to work in events or recruiting, or with Disney Vacation Club. Traveling would be a bonus.
"I have big dreams," she said.


This story is taken from the Spring 2012 issue of the Points of Pride newsletter, published by University Advancement and Marketing.