Ferris State University is launching SocialFest 2012 to encourage students to connect with their campus and learn how social media can benefit their future.
The inaugural social media festival kicks off Monday, Sept. 10 with five days of free events and activities designed by the university's Social Media Team to engage new and continuing students.
"SocialFest is all about connecting students to campus throug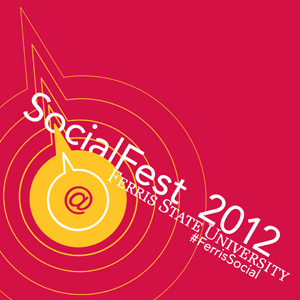 h social platforms while providing an educational opportunity," said Amber Balmer, a Social Media Team member and coordinator of Student Activities. "We want it to be fun and interesting. We even want to make sure you get some free stuff. But at the end of the week, we hope that SocialFest will help students harness the power of social media and use it in a positive way."
Efforts are under way to encourage students to start thinking about the YouTube Film Festival. Students can create short films to be entered in up to four categories: "The Random Stuff I Love on Campus," "Don't Hate Participate," "Ferris State Cribs" and "My First Days at Ferris."
Screenings of the entries will be held at 7 p.m. Monday, Sept. 10 in the Rankin Student Center Dome Room and also posted to Ferris' Facebook page (https://www.facebook.com/FerrisState). Polls will be created to determine the winner of each category. Prizes will have a $200 cash value.
A highlight of SocialFest will be a presentation by Ferris alumnus Luke Wyckoff, owner of Social Media Energy and Wyckoff Consulting. This will be a 5-Star campus event. Wyckoff will participate in a panel discussion followed by a presentation on the importance of social media and how to shape an online presence for future employability. The event begins at 6 p.m. Tuesday, Sept. 11 in Williams Auditorium.
All events include opportunities to win a variety of prizes, from T-shirts for participation in a Foursquare Scavenger Hunt to free drinks at the concession stand for checking in on Foursquare at the Ferris football home opener on Saturday, Sept. 15 at 7 p.m. when the Bulldogs host Ashland University at Top Taggart Field. The festival also includes a Facebook photo caption contest and live Twitter feeds.
The Social Media Team hopes that Ferris faculty and staff, and Big Rapids community residents will participate in SocialFest 2012 activities.
"I will be at most events and getting my social media friends involved," said Angela Roman, director of Career Services and a SocialFest committee member. "Career Services and Student Leadership and Activities will be actively involved in tweeting, updating statuses, liking events, checking in and linking to all SocialFest events."
Senior Samantha Bankey, a Public Relations major from Romulus, actively engages in various social media platforms.
"Social media is changing the way we live, and it is crucial for our generation to know about it," Bankey said. "Social media is not just for chatting with friends, but for finding new connections and networking skills to get in the know about what is going on in the world, socially."