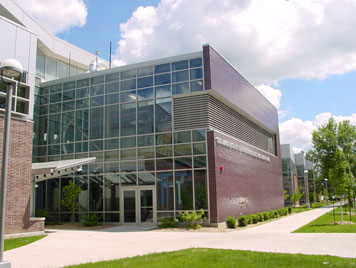 The Olympics have yet to begin, but Ferris State University students John Bohnett and Brad Edlund are medalists in their own right.
Bohnett earned a gold medal and Edlund earned silver at the 2012 SkillsUSA Championships on June 26 in Kansas City, where nearly 6,000 of the nation's best career and technical education students competed in 94 trade, technical and leadership fields.
Both are College of Engineering Technology students.
Bohnett, a sophomore from Saline majoring in Graphic Media Management, won the top spot in the competition's graphic communications category.
"Life didn't seem real – I didn't think I was going to place in the top three," said Bohnett, whose challenge included operating offset presses, folding machines and guillotine cutters. "My competition portion covered almost every aspect of the graphic communications field."
As a gold medalist, Bohnett may have the opportunity to compete in the WorldSkills Competition in July 2013 in Leipzig, Germany. To advance, his scores must be better than next year's gold medalist in the same category at the SkillsUSA championship.
Edlund, a senior from Iron Mountain majoring in Architecture and Sustainability, earned a silver medal in the competition's architectural drafting category. He said that the demand of creating floor plans and solving design problems was invaluable an experience.
"It's something good to put on a resume, and it allows me to meet new people in the industry," Edlund said.
Also competing was Marcus Vanpoppelen, a Drafting and Tool Design Technology freshman from Bay City, who placed fourth in the Technical Drafting category.
Associate professor Dan Wanink, a SkillsUSA advisor since 2003, said that the scenarios students face during SkillsUSA competition are similar to those in the industry. Wanink credits the hands-on knowledge Ferris students receive in the classroom as a vital part of training for the national competition.
"We are training students for real-world jobs," Wanink said. "Employers want to know 'what can you do,' 'what do you know' and 'are you ready to go to work' and it's the dedication of the instructors at Ferris that helps to get them ready to compete."