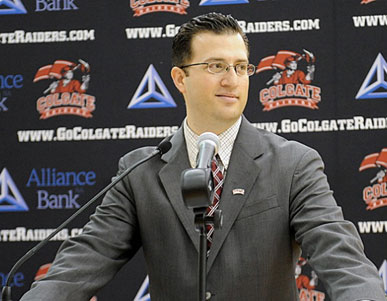 DETROIT – Jeremiah Hergott, a Ferris State University alumnus with a bachelor of science in Business and Public Relations, is returning to his home state of Michigan as the newly-named Sports Information Director at the University of Detroit Mercy.
"It is really nice for both my wife (Jennifer Park '01, '07) and I to return to Michigan to be closer to our families. I owe a lot of my success at the University of Michigan and Colgate University to Professor Ron Greenfield and the Public Relations program, at Ferris, for providing me with the knowledge to reach my goals," said Hergott, who begins his duties at UDM on July 23. "Professor Greenfield was really the one who saw what I could become to be successful in life. I would bet getting me to believe in myself was harder for him to teach rather than basic case studies.
"The PR program at Ferris prepares and sends out professionals that are ready to work with no training needed. I'm just glad I followed that mold," added Hergott, who has spent the last four years at Colgate University as director of Athletics Communications.
Hergott is a member of College Sports Information Directors of America, Public Relations Society of America, Football Writers Association of America and the United States Basketball Writers Association.
"We are excited to have Jeremiah join our external affairs team," said Jason Horn, UDM associate athletics director. "He brings great enthusiasm and creativity to Calihan Hall and will prove to be one of the top SIDs in the region."

Hergott, a native of Ann Arbor, oversaw all aspects of public and media relations for Colgate's 25 Division I athletics programs along with the day-to-day operations of the sports information office and the athletics website. He served the media as primary contact for several athletic programs, including the Raiders football, men's and women's basketball, and softball teams.

During the last two years, Hergott put together a digital marketing and social media campaign that developed and expanded the presence of Colgate Athletics on Facebook and Twitter and through text messaging. Hergott also designed and launched two new websites, integrated three new social media techniques and received five CoSIDA awards for publications.

Prior to joining Colgate, Hergott served one year as an athletic media relations assistant at the University of Michigan.

Hergott developed media strategies for 14-time Olympic gold medalist Michael Phelps, two-time gold medalist Peter Vanderkaay and U.S. National Team assistant swimming coach Bob Bowman.