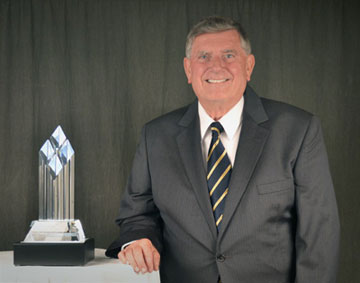 Ferris State University alumnus Harry Grenawitzke is the 2012 recipient of the Walter F. Snyder Environmental Health Award, the highest honor bestowed upon a member by the National Environmental Health Association.
Grenawitzke, who earned a Bachelor of Science in Environmental Health from Ferris in 1969, is vice president of regulatory affairs for NSF International, an Ann Arbor-based non-profit organization that provides standards development, product certification, auditing, education and risk management for public health and the environment.
Grenawitzke received the award, presented June 28 during the National Environmental Health Association's annual conference in San Diego, for his more than 40 years of contributions to the advancement of public and environmental health.
Grenawitzke also is the recipient of the 2007 Davis Calvin Wagner award from the American Academy of Sanitarians and the 2002 Walter S. Mangold Award from NEHA. With the addition of the Snyder award, he has earned the Triple Crown of Environmental Health awards.
Before joining NSF 11 years ago, Grenawitzke was director of environmental health for the Monroe County Department of Health. He has held important roles in several public health organizations, including the NEHA, Michigan Environmental Health Association, Canadian Institute of Public Health Inspectors, American Academy of Sanitarians and NSF International's Council of Public Health Consultants.
Grenawitzke also serves as a public health consultant and food safety trainer, and works closely with the U.S. Department of Justice to elevate standards and living conditions at U.S. correctional institutions.
The Snyder award is given in honor of NSF International's co-founder and first executive director Walter F. Snyder, and is presented annually in recognition of outstanding contributions to the advancement of environmental health.