Claudia Bruce
Hometown: Traverse City
Degree: Bachelor of Science in Art History
On Kendall College of Art and Design: "The faculty is incredibly dedicated and knowledgeable. Even if my interest wasn't theirs, they still encouraged me. My education was very personalized to what I wanted to do, what my needs were."
Point of Pride: "The relationships I have been able to build with students half my age have been extremely rewarding. Hopefully, they have been able to gain as much from my life experience as I have from their fresh perspective and talent."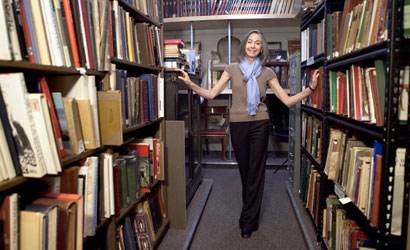 Claudia Bruce had already built a successful career, lived in some of the world's most influential locales and learned to speak multiple languages. She still wanted more.
"I love to learn," said Bruce, who at 53 received a bachelor's degree in Art History from Ferris State University's Kendall College of Art in Design during commencement ceremonies this spring. "I have people ask me all the time, 'Aren't you doing this backwards?' But what I did all those years was also very valuable."
Bruce lives in Traverse City, where she moved three years ago to be closer to her 91-year-old mother. She was born and raised in Detroit and Dearborn, Mich., and completed her senior year of high school in France as recipient of the American Field Service Scholarship. That's where her love of fashion was fueled.
"I started sewing from the womb," said Bruce, who returned from France to work at Lanvin, a French boutique in Detroit's Renaissance Center. That position led to a promotion with the House of Lanvin in New York City, where she worked as a project coordinator and sales manager for women's ready-to-wear and accessories.
"I did that for about six years, but grew tired of not being able to create," she said. "So I started my own custom-apparel business."
For the next 17 years, Bruce provided professional services to more than 1,500 clients in the United States and Europe, including design and execution of fine clothing, alterations and style consultation. She designed and created clothing for Bride's magazine and the Hindsgaul Mannequins showroom, and was a style consultant for Glamour magazine.
Then family reasons necessitated a move to Miami.
"I didn't want to start my business over there; it would have been too much work," Bruce said.
Instead she turned her creative focus to designing and creating decorations for the staging of residential units. She eventually got her realtor's license and also served as president and first vice president of a homeowners association that represented the concerns of more than 17,000 area residents.
She decided to nurture her love for fashion and art by pursuing an associate's degree in art education and enrolled in Miami Dade College. But after her father died, she decided to move to Traverse City to be closer to her mother, who lives nearby with Bruce's sister, an art history professor at Northwestern Michigan College in Traverse City and at North Central Michigan College in Petoskey.
Through an agreement between NMC and Miami Dade, Bruce was able to take classes needed to finish her associate's degree. But that still wasn't enough.
"That's when I looked at Kendall," said Bruce, who was impressed by the Art History department's faculty, the school's reputation and the commutable location.
"Returning to formal studies after a lifetime of work presents numerous challenges, but the most challenging has to be living like a student again - long hours of homework!"
As a non-traditional student, she also has been faced with how to finance her education.
"Fortunately, I saved enough to do this and worked really hard to get good grades for scholarships," she said. "Non-traditional students are growing in numbers, and finances are an issue. At my age, I'm not going to make that tuition money up."
Her goal, ultimately, is to work as a curator at an art museum with fashion archives or as an instructor. She will continue to work toward that by attending New York University Steinhardt in New York City this fall to earn a master's degree in Costume Studies.
"The field is really booming," said Bruce, who, in addition to French, also speaks some Russian and Spanish. "There are museums all over the world that are showing clothing collections and don't have enough curators."
Where she will end up living or what she will do is an adventure Bruce is looking forward to. She's thankful her education at KCAD , which included a Study Abroad trip to Spain, put her on the right track.
"I've had access to members of the faculty who have superior knowledge in their areas of specialty," Bruce said. "Both of the Art History chairs – Suzanne Eberle and Anne Norcross – welcomed and nurtured my interest in the history of fashion, which has allowed me to prepare for graduate work specific to that topic.
"And faculty members have consistently appreciated the knowledge and experience I bring with me to Kendall as a nontraditional student."
Bruce, who won the Art History Excellence Award from KCAD, had a digital slide presentation entitled "Balenciaga and the Art of Dress" at the annual Student Exhibition, which this year was held in the newly renovated Federal Building.
Bruce also was chosen as the student representative on the Presidential Search Committee charged with finding a replacement for retiring KCAD President Oliver Evans.
"It was a huge honor to be asked," Bruce said. "It was a great experience."

This story is taken from the Spring 2012 issue of the Points of Pride newsletter, published by University Advancement and Marketing.