As part of this year's Festival of the Arts celebration, the Mariachi Nacional Band of Indianapolis will put on musical shows at the halftime breaks of both the Ferris State University men's and women's basketball games on Saturday, Feb. 4 in Big Rapids at Jim Wink Arena.
The women's game begins at 1 p.m. and the men's game tips off at approximately 3 p.m. as the Bulldogs host Saginaw Valley State University. Both Ferris basketball teams are in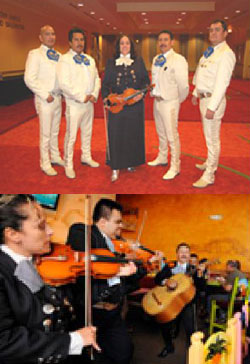 first place in the Great Lakes Intercollegiate Athletic Conference North Division.
Originally street musicians and restaurant performers, many Mariachis are highly regarded professional musicians today. Until recently, few featured or were led by women. That is one aspect of the Mariachi Nacional Band that makes it unique. It was formed in 2000 by female violinist Rosa Perez. A native of Cuba, Perez was exposed to Mariachi music by her father, who was born in Mexico.

A fixture of Mexican culture since the 18th century, Mariachi bands are typically used to serenade sweethearts and for events like weddings and birthdays. Traditional Mariachi bands typically include an acoustic guitar, a vihuela (a small five-string guitar), a guitarron (a large acoustic bass), violins and trumpets.
Game ticket purchase is required for admittance. Tickets cost $7 for adult general admission, $5 for seniors and $5 for students grades K-12. Ferris students with a valid student ID are admitted for free. For ticket sales, contact the Ferris State University Athletics Ticket Office at (231) 591-2888.
For more information, contact Richard Scott Cohen at (231) 591-2484
Event sponsored include Ferris State University Athletics, the Office of International Education and the Office of Multicultural Student Services.